Un grito en el 35° aniversario de Songs From The Big Chair
---
Universal Music relanza el box set del segundo álbum de Tears For Fears, Songs From The Big Chair. Sí, aquel de la canción Shout. Además de ser un hitazo en su momento (1985), ahora tenemos el agregado del mix surround a cargo del señor Steven Wilson.
Lanzado este box set en 2014 -para el 30° aniversario-, en esta oportunidad se reedita para festejar los 35 años del lanzamiento del LP original de mediados de los 80s.
SFTBC llega repleto de remixes y rarezas en un box más que interesante.
También en forma conmemorativa, se edita una edición del LP en formato picture disc. Y, como bonus, Universal reeditará The Hurting, el disco debut de los Tears, también en box set.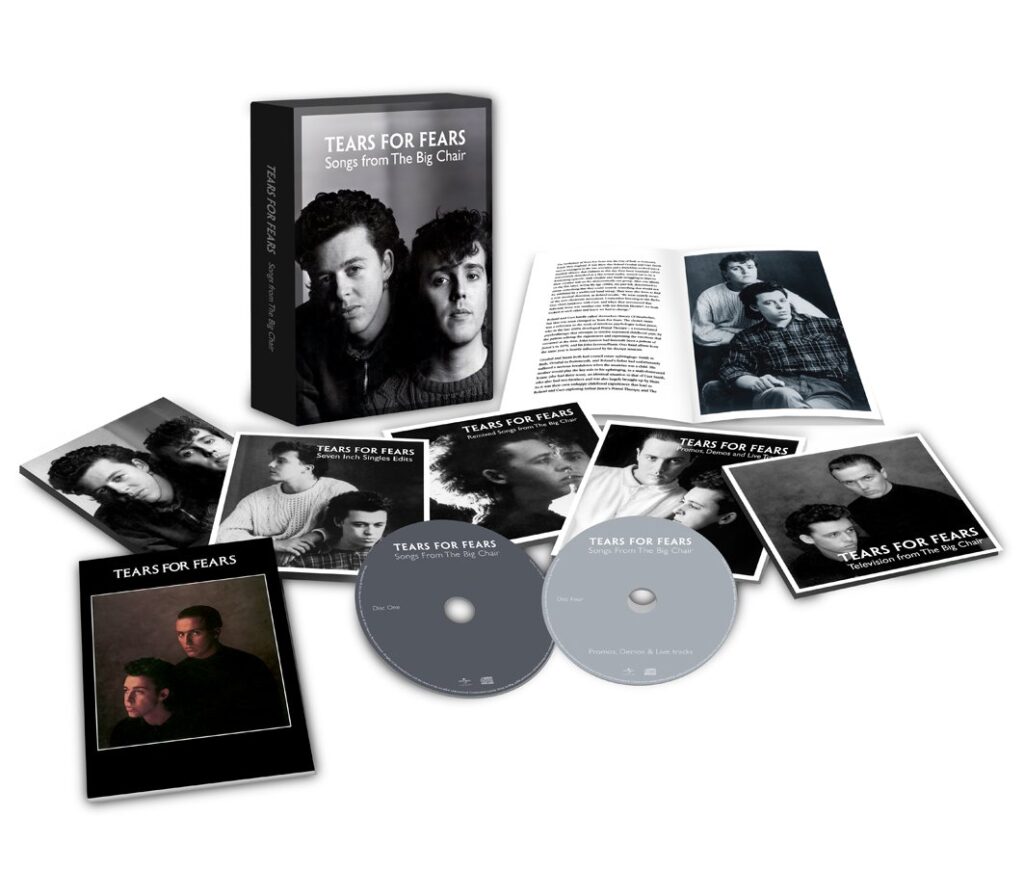 Songs From The Big Chair – 4CD+2DVD super deluxe edition (Fuente superdeluxeedition.com)
DISC ONE – Album with special cassette-only bonus tracks recreated
01. SHOUT : 6:31
02. THE WORKING HOUR : 6:29
03. EVERYBODY WANTS TO RULE THE WORLD : 4:09
04. MOTHERS TALK : 5:04
05. I BELIEVE : 4:54
06. BROKEN : 2:38
07. HEAD OVER HEELS : 5:02
08. LISTEN : 6:54
Bonus tracks
09. THE BIG CHAIR : 3:20
10. EMPIRE BUILDING : 2:41
11. THE MARAUDERS : 4:13
12. BROKEN REVISITED : 5:15
13. THE CONFLICT : 4:02
14. THE WORKING HOUR – Piano Version : 2:08
15. PHARAOHS : 03:42
16. WHEN IN LOVE WITH A BLIND MAN : 2:22
17. SEA SONG : 3:51
DISC TWO – Edited Songs From The Big Chair
01. THE WAY YOU ARE : 4:49
02. MOTHERS TALK – Single Version : 3:53
03. SHOUT – Single Version : 5:58
04. EVERYBODY WANTS TO RULE THE WORLD – Single Version : 4:14
05. HEAD OVER HEELS – Remix : 4:15
06. I BELIEVE (A Soulful Re-Recording) : 4:39
07. EVERYBODY WANTS TO RUN THE WORLD : 4:30
08. THE WAY YOU ARE – Short Version : 4:21
09. MOTHERS TALK – U.S. Remix : 4:14
10. SHOUT – U.S. Single Version : 4:51
11. EVERYBODY WANTS TO RUN THE WORLD – Running Version : 4:30
12. HEAD OVER HEELS – Radio Version : 4.20
13. MOTHERS TALK – Video Version : 4:14
14. SHOUT – Short Version : 4:03
15. LISTEN – Clean Intro : 6:52
15. INTERVIEW WITH CURT & ROLAND : 7:35
DISC THREE – Remixed Songs From The Big Chair (exclusive to box)
01. THE WAY YOU ARE – Extended Version : 7:37
02. MOTHERS TALK – Extended Version : 6:18
03. SHOUT – Extended Remix Version : 7:40
04. EVERYBODY WANTS TO RULE THE WORLD – Extended Version : 5:40
05. BROKEN / HEAD OVER HEELS / BROKEN – Preacher Mix : 8:00
06. MOTHERS TALK – Beat Of The Drum Mix : 8:54
07. SHOUT – U.S. Remix : 8:02
08. EVERYBODY WANTS TO RULE THE WORLD – Urban Mix : 6:06
09. MOTHERS TALK – U.S. Remix alternate : 4:12
10. SHOUT – Dub : 6:49
11. EVERYBODY WANTS TO RULE THE WORLD – Instrumental : 4:21
12. SHOUT – Acappella : 5:02
DISC FOUR – Unreleased Songs From The Big Chair (exclusive to box)
01. HEAD OVER HEELS : 4:14 Richard Skinner Session
02. THE WORKING HOUR : 6:06 Richard Skinner Session
03. BROKEN : 3:19 Richard Skinner Session
04. MOTHERS TALK : 4:05 Live At Massey Hall
05. BROKEN / HEAD OVER HEELS : 5:01 Live At Massey Hall
06. MEMORIES FADE : 6:50 Live At Massey Hall
07. THE WORKING HOUR : 7:31 Live At Massey Hall
08. EVERYBODY WANTS TO RULE THE WORLD : 4:19 Live At Massey Hall
09. SHOUT : 7:50 Live At Massey Hall
10. MOTHERS TALK – Early Mix / Instrumental : 4:39
11. THE WAY YOU ARE – Early Mix : 4:25
12. BROKEN – Early Mix : 5:38
13. SHOUT – Early Mix : 5:08
14. EVERYBODY WANTS TO RULE THE WORLD – Alternate Single Version: 4.20
DISC FIVE (DVD)
5.1 and Stereo mix
SHOUT : 6:32
THE WORKING HOUR : 6:31
EVERYBODY WANTS TO RULE THE WORLD : 4:11
MOTHERS TALK : 5:10
I BELIEVE : 4:54
BROKEN : 2:38
HEAD OVER HEELS : 5:20
LISTEN : 6:49
DISC SIX (DVD)
Documentary
01. SCENES FROM THE BIG CHAIR – Documentary : 1:14:43
02. INTERVIEW WITH PRODUCER CHRIS HUGHES : 35:00
Promos
03. THE WAY YOU ARE – Music Video : 3:57
04. MOTHERS TALK – Alternative UK Video : 4:00
05..MOTHERS TALK – Music Video : 4.49
06. SHOUT – Music Video : 6:31
07. EVERYBODY WANTS TO RULE THE WORLD – Music Video : 4:52
08. HEAD OVER HEELS – Music Video : 4:26
09. I BELIEVE – Music Video : 4:45
10. MOTHERS TALK – US Mix – Music Video : 4:52
11. EVERYBODY WANTS TO RUN THE WORLD – Music Video : 4:52
BBC TV Appearances
03. THE WAY YOU ARE : 4:11 Top Of The Pops
04. MOTHERS TALK : 3:48 Top Of The Pops
05. MOTHERS TALK : 3:51 Top Of The Pops
06. SHOUT : 4:20 Top Of The Pops
07. EVERYBODY WANTS TO RULE THE WORLD : 4:08 Wogan
08. EVERYBODY WANTS TO RULE THE WORLD : 3.35 Top Of The Pops
09. EVERYBODY WANTS TO RULE THE WORLD : 3.45 Top Of The Pops
10. THE WORKING HOUR : 4:28 Wogan
---
You may also like