U2 y los 20 años de "All That… "
---
Se relanza el que para nosotros es el último gran disco de U2. El bello All That You Can't Leave Behind cumple 20 años y como corresponde a esta época, la reedición se realiza a todo lujo.
Producido por Brian Eno y Daniel Lanois, para el décimo álbum de estudio U2 dejó atrás sus experimentaciones y se lanzó al éxito casi garantizado de canciones más directas. El álbum y sus temas ganaron 7 premios Grammy -U2 era una de esas bandas que sabias que hicieran lo que hicieron, la maquinaria no los iba a dejar afuera de los Grammys-. Ahora completamente remasterizado, el álbum original se encuentra junto a grabaciones en vivo, raras e inéditas; algunos de sus mayores éxitos comerciales están incluídos en All That: 'Beautiful Day', 'Walk On', 'Elevation' y 'Stuck in a Moment You Can't Get Out Of It'.
La portada del álbum tiene una linda historia además, de esas que nos gustan en Rock Is Here para seguir dándole luz a esos sitios historicos del Rock para que la gente que visite esos lugares se emocione: la foto fue tomada por el fotógrafo de U2 Anton Corbijn en el Roissy Hall 2F del aeropuerto Charles de Gaulle en París, Francia, también donde se filmó el video musical de "Beautiful Day". A diferencia de las coloridas cubiertas de los discos de la banda en la década de 1990, la portada es una única imagen monocromática de la banda en la terminal de salidas del aeropuerto. Pero lo que es menos conocido es que hay dos tapas que vieron la luz, si bien, claro, una es masiva de verdad y la otra no tanto. Las primeras versiones de la portada publicadas a la prensa muestran un letrero de salida que dice "F21-36", sin embargo, esto se cambió para la versión más conocida a J33-3 en referencia al versículo bíblico Jeremías 33: 3, "Llámame y te responderé cosas grandes y poderosas que no conoces ". Bono se refirió a él como "el número de teléfono de Dios".
Bueno, es Bono.
Un precioso disco que se reedita y nos hace pellizcar para ver si es verdad que ya pasaron 20 años de su salida original.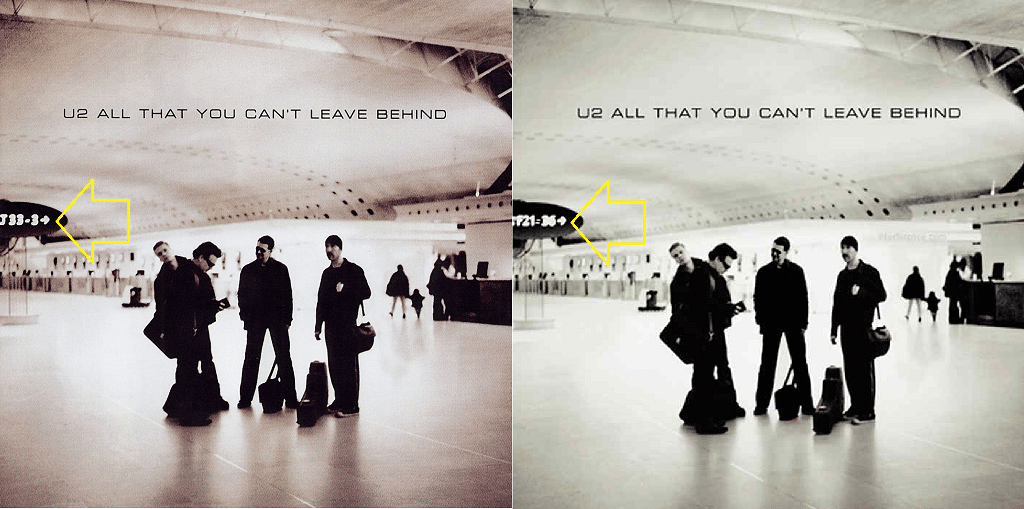 El lanzamiento está previsto para este 30 de octubre es varios formatos (ya es casi obvio decirlo): caja con 11 vinilos, caja con 5 cds, y versiones de 2 y 1 cd.
U2 All That You Can't Leave Behind limited edition 5CD box set Includes;
Booklet de 20 páginas
CD 1 álbum original remasterizado
CD2 B-sides, outtakes y versiones alternativas – 9 track collection
CD 3 and CD 4 Elevation Live From Boston, 19 track set
CD 5 11 remix singles- 4 inéditos
Y libro de 32 páginas con fotos no conocidas tomadas a la banda por Anton Corbijn
Poster doble
TRACKLIST:
CD1 – All That You Can't Leave Behind (Remastered 2020)
Beautiful Day
Stuck In A Moment You Can't Get Out Of
Elevation
Walk On
Kite
In A Little While
Wild Honey
Peace On Earth
When I Look At The World
New York
Grace
The Ground Beneath Her Feet
CD2 – B-Sides/Out-takes/Alternatives
Levitate
Summer Rain
Stateless
Always
Love You Like Mad
Big Girls Are Best
Don't Take Your Guns To Town
Stuck In A Moment You Can't Get Out Of (Acoustic Version)
Flower Child
CD3 – Elevation Live From Boston
Elevation
Beautiful Day
Until The End Of The World
Stuck In A Moment You Can't Get Out Of
Kite
Gone
New York
I Will Follow
Sunday Bloody Sunday
CD4 – Elevation Live From Boston
In A Little While
Desire
Stay (Faraway, So Close!)
Bad/"40″
Where The Streets Have No Name
Bullet The Blue Sky
With Or Without You
The Fly
Wake Up Dead Man
Walk On
CD5 – All That You Can't Leave Behind Remixes
Elevation (Paul Van Dyk Remix)
Elevation (Influx Remix)
New York (Carnegie's Deli Mix)
New York (Superman Kicks Ativan Mix)
Beautiful Day (Quincey and Sonance Remix)
Beautiful Day (The Perfecto Mix)
In A Little While (Nightmares On Wax Remix)
Walk On (Wyclef Jean Remix)
When I Look At The World (Picante Remix)
Elevation (Escalation Mix)
Elevation (Quincey and Sonance Remix)
---
You may also like