The Hotrats -o el 66,66% de Supergrass- reedita
---
El proyecto paralelo de Supergrass The Hotrats (Gaz Coombes y Danny Goffey) lanzó un álbum de versiones llamado Turn Ons, allá por 2010. Ese álbum ahora se ha ampliado y se reeditará como una caja de 3CD + DVD.
Amazon.Uk posee con una cantidad de 500 ejemplares firmados por Gaz y Danny para pre-orden.
Producido por Nigel Godrich (Radiohead, Paul McCartney, Beck), el álbum muestra las influencias del rock clásico de la banda con covers de temas Bowie, The Kinks, Pink Floyd, The Beatles y más. Esta reedición incluye el álbum original, raras grabaciones de estudio en un disco bonus y el concierto "Live in Tokio" completo e inédito. El tercer CD es instrumental, con los tracks listos como para hacer un casero karaoke junto a The Hotrats e incluye con una versión alternativa exclusiva del "Drive My Car" de los Beatles y una nueva canción; un cover del Milkshake de Kelis.
Lanzamiento previsto para el 19 de junio de este año.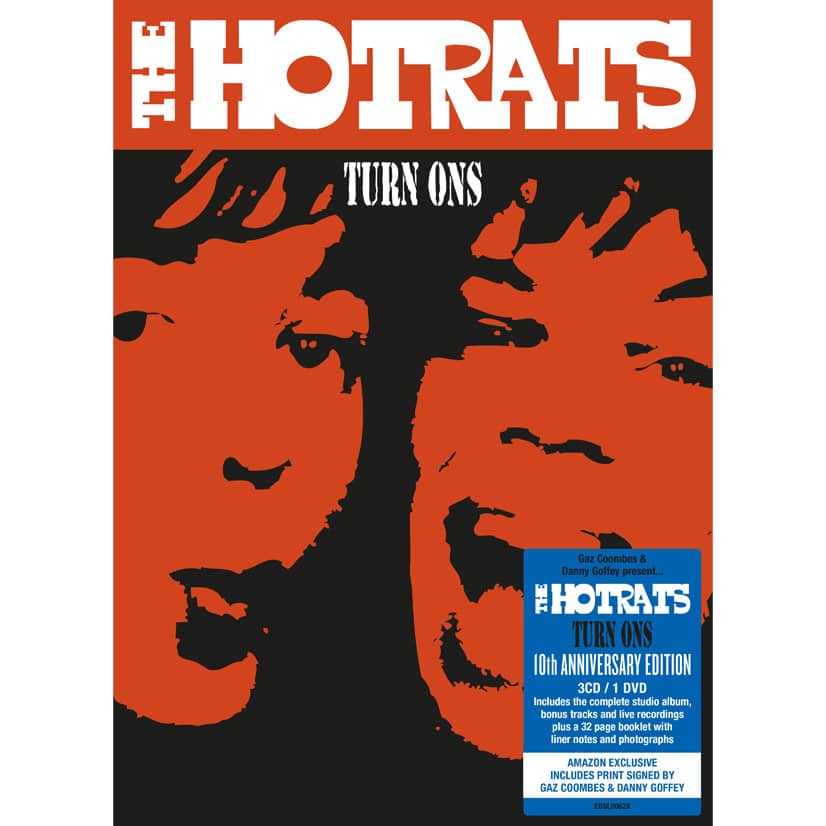 CD 1: Turn Ons
1. I Can't Stand It (The Velvet Underground)
2. Big Sky (The Kinks)
3. The Crystal Ship (The Doors)
4. (You Gotta) Fight for Your Right (To Party!) (Beastie Boys)
5. Damaged Goods (Gang of Four)
6. Love Is the Drug (Roxy Music)
7. Bike (Pink Floyd)
8. Pump It Up (Elvis Costello & The Attractions)
9. The Lovecats (The Cure)
10. Queen Bitch (David Bowie)
11. E.M.I. (Sex Pistols)
12. Up the Junction (Squeeze)
Bonus tracks
13. Mirror In The Bathroom (The Beat)
14. West End Girls (Pet Shop Boys)
15. Drive My Car (The Beatles)
16. Drive My Car (Alternate Version)
17. Milkshake (Kelis)
CD 2 Live
Live in Tokyo
1. Introduction
2. I Can't Stand It
3. Damaged Goods
4. (You Gotta) Fight
For Your Right (To Party!)
5. The Crystal Ship
6. Pump It Up
7. Love Is The Drug
8. Big Sky
9. Queen Bitch
10. Bike
11. Mirror In The Bathroom
12. E.M.I.
13. The Lovecats
14. Drive My Car
15. Caught By The Fuzz
Live @ Studio 91
16. I Can't Stand It
17. Mirror In The Bathroom
18. E.M.I.
CD 3: Karaoke With The Hotrats
1. I Can't Stand It (Instrumental)
2. Big Sky (Instrumental)
3. The Crystal Ship (Instrumental)
4. (You Gotta) Fight For Your Right (To Party!)
(Instrumental)
5. Damaged Goods (Instrumental)
6. Love Is The Drug (Instrumental)
7. Bike (Instrumental)
8. Pump It Up (Instrumental)
9. The Lovecats (Instrumental)
10. Queen Bitch (Instrumental)
11. Up The Junction (Instrumental)
12. Mirror In The Bathroom (Instrumental)
13. Milkshake (Instrumental)
Fuente SDE.com
---
You may also like