Pink Floyd y los últimos años
---
El 29 de noviembre, Pink Floyd Records lanzará 'Pink Floyd The Later Years', un combo de 18 discos (5 x CD, 6 x Blu-Rays, 5 x DVD, 2×7 "más un álbum de fotos exclusivo y memorabilia) que cubre el material creado por David Gilmour, Nick Mason y Richard Wright desde 1987 en adelante. El período generó ventas de discos por más de 40 millones unidades en todo el mundo e incluyó tres álbumes de estudio: 'A Momentary Lapse of Reason', 'The Division Bell' y 'The Endless River', así como dos álbumes en vivo: 'Delicate Sound of Thunder' y ' Pulse'. Con la producción adicional de David Gilmour y Andy Jackson, más de 13 horas de material audiovisual y de audio inédito, incluídos los ansiados conciertos de Venice y Knebworth de 1990 en 1989, "Pink Floyd The Later Years".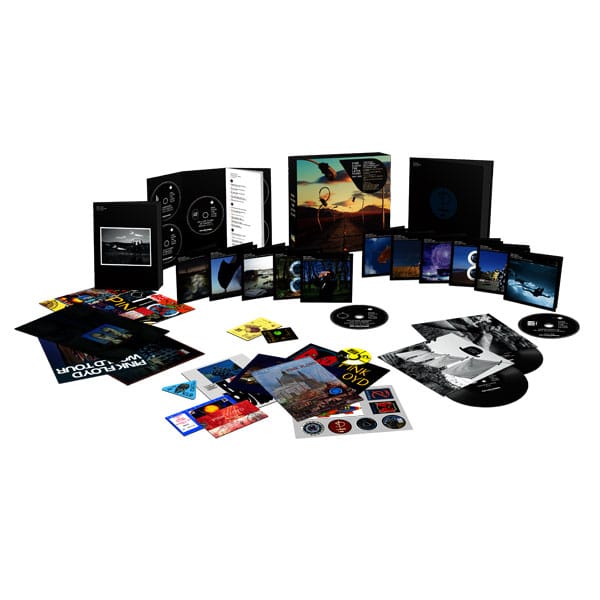 Detalles adicionales
CDs
5 x CD, contenidos en su propio libro de tapa dura de 60 páginas, que contiene una guía de todo el contenido, listas de canciones, detalles exhaustivos del contenido y créditos.
CD 1 'A Momentary Lapse of Reason' Updated & Remixed 51 mins
CD 2 & 3 'Delicate Sound Of Thunder' Remixed 140 mins
CD 4 Live Recordings, 1987 & 1994 Unreleased Studio Recordings 65 mins
CD 5 Knebworth Concert 1990 57 mins
Blu-rays
6 x Blu-rays
Blu-ray 1 Surround & Hi-res Audio Mixes de los álbumes 152 mins
Blu-ray 2 'Delicate Sound Of Thunder' Restored & Remixed 120 mins
Blu-ray 3 'Pulse' Restored & Re-edited 145 mins
Blu-ray 4 Venice Concert 1989 & Knebworth Concert 1990 147 mins
Blu-ray 5 Unreleased Live Films Music Videos & Concert Screen Films 154 mins
Blu-ray 6 Documentaries & Unreleased Material 122 mins
DVD
5 x DVDs (mismo material que los Blu-rays)
7" Singles
2 x 7" singles de vinilo con nuevas tapas para 'Arnold Layne' (Pink Floyd at the Syd Barrett Tribute concert, 2007) y Lost For Words (ensayos del tour Pulse en Earl's Court).
Photo Book de 60 páginas diseñado por Aubrey Powell de Hipgnosis y Peter Curzon de StormStudios
Replica Tour Programmes y libro con letras de las canciones y unaimporante coleccion de memorabilia.
Tambien habrá versiones (muy) resumidas en material (una especie de Best of del box) en CD y vinilo.
---
You may also like