La Lengua de la Serpiente cumple 30
---
Whitesnake reedita Slip Of The Tongue para su 30º aniversario:
La colección de 6CD / DVD incluye una versión recientemente remasterizada del álbum, además de grabaciones de estudio inéditas, audio y video de la actuación de la banda en el festival Monsters of Rock de 1990, y una nueva entrevista con el fundador y cantante principal de Whitesnake, David Coverdale. Viene en un libro de tapa dura de 60 páginas lleno de recuerdos raros de la época. Por un tiempo limitado, Rhino.com ofrecerá la edición Super Deluxe junto con una litografía firmada por David Coverdale por $ 84.98. https://rhino.lnk.to/SOTT, pero a no desesperar, habrá versiones más accesibles a nivel internacional.
Otras versiones de Slip of the Tongue también estarán disponibles el mismo día de lanzamiento (4 de octubre próximo), incluída la edición Deluxe de doble CD, que incluye el álbum recientemente remasterizado ampliado con una selección de bonus bonus inéditos y una edición Deluxe de doble LP. que presenta el álbum recientemente remasterizado junto con una selección de bonus tracks especiales. Una versión de disco único incluye el álbum recientemente remasterizado, junto con lados B individuales más grabaciones alternativas. La música también estará disponible digitalmente.
Tras el éxito de su álbum homónimo en 1987 (más de 8 millones de copias vendidas solo en EEUU), Whitesnake regresó dos años después con Slip of the Tongue. En ese momento, la banda incluía a Coverdale, el bajista Rudy Sarzo, el baterista Tommy Aldridge y los guitarristas Adrian Vandenberg y Steve Vai. Vandenberg y Coverdale co-escribieron todas las canciones menos una en el álbum, pero Vandenberg no pudo grabarlas en el estudio en ese momento debido a una lesión en la mano. Para llenar el vacío, Vai se unió a la banda para el álbum y la gira.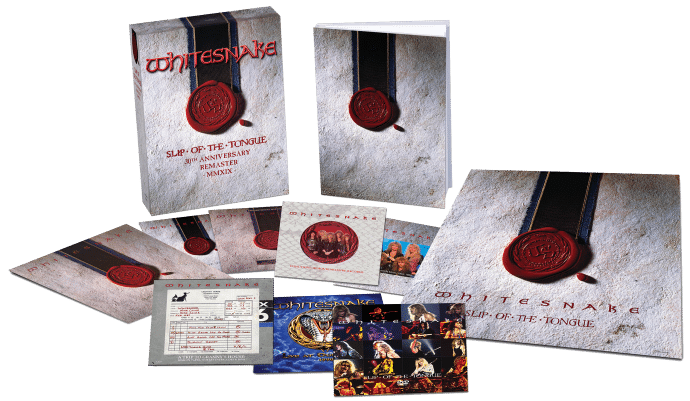 SLIP OF THE LONGUE: 30th ANNIVERSARY EDITION presenta versiones inéditas de todas las pistas del álbum. Además, la colección incluye casi dos docenas de canciones inéditas tomadas de las cintas de sesión que destacan versiones de trabajo de pistas del álbum y más. El set también incluye el debut en CD de Slip of the Tongue: The Wagging Tongue Edition. Lanzado exclusivamente en vinilo en 1989, presenta a Coverdale siendo entrevistado sobre cada canción seguida de la canción propiamente dicha.
SLIP OF THE LONGUE: 30th ANNIVERSARY EDITION termina a lo grande con la presentación de Whitesnake en 1990 en el Monsters of Rock Festival en Castle Donington en CD y DVD. El DVD también incluye tres videos musicales, todos los cuales han sido cuidadosamente restaurados y mezclados en 5.1 Surround Sound por primera vez. Un nuevo video promocional de la canción «Sweet Lady Luck», hecho exclusivamente para este set, una mirada detrás de escena de la realización del álbum, más una entrevista recientemente grabada con Coverdale y Vandenberg completa el DVD.
SLIP OF THE TONGUE: 30thANNIVERSARY EDITION
Track Listing:
Disc One: Original 1989 Album (2019 Remaster)
"Slip Of The Tongue"
"Kittens Got Claws"
"Cheap An' Nasty"
"Now You're Gone"
"The Deeper The Love"
"Judgment Day"
"Sailing Ships"
"Wings Of The Storm"
"Slow Poke Music"
"Fool For Your Loving"
Bonus Tracks: B-Sides and Alternate Mixes
"Sweet Lady Luck" (Single B-Side)
"Now You're Gone" (Chris Lord-Alge Single Remix)
"Fool For Your Loving" (Vai Voltage Mix)
"Slip Of The Tongue" (Alternate Intro & Breakdown)
"Cheap An' Nasty" (Alternate Solo & End)
"Judgment Day" (Alternate & Extended Solos)
"Fool For Your Loving" (Alternate AOR mix with CHR intro)
Disc Two: The Wagging Tongue Edition (CD Debut)
Interviewer: Phil Easton
Spoken Word: "Slip Of The Tongue" Interview
"Slip Of The Tongue"
Spoken Word: "Cheap An' Nasty" Interview
"Cheap An' Nasty"
Spoken Word: "Fool For Your Loving" Interview
"Fool For Your Loving"
Spoken Word: "Now You're Gone" Interview
"Now You're Gone"
Spoken Word: "Kittens Got Claws" Interview
"Kittens Got Claws"
Spoken Word: "Wings Of The Storm" Interview
"Wings Of The Storm"
Spoken Word: The Deeper The Love Interview
"The Deeper The Love"
Spoken Word: "Judgment Day" Interview
"Judgment Day"
Spoken Word: "Slow Poke Music" Interview
"Slow Poke Music"
Spoken Word: "Sailing Ships" Interview
"Sailing Ships"
Spoken Word: Closing Interview
Disc Three: Evolutions: Demos/Remixes/Re-records
"Slip Of The Tongue" *
"Cheap An' Nasty" *
"Now You're Gone" *
"Judgment Day" *
"Sailing Ships" *
"Kittens Got Claws" *
"The Deeper The Love" *
"Wings Of The Storm" *
"Slow Poke Music" *
"Fool For Your Loving" *
"Kill For The Cut" *
"Parking Ticket" *
"Sweet Lady Luck" (Instrumental) *
Disc Four: Monitor Mixes, April 1989
"Kittens Got Claws" *
"Cheap An' Nasty" *
"The Deeper The Love" *
"Judgment Day" *
"Slow Poke Music" *
"Now You're Gone" *
"Slip Of The Tongue" *
"Fool For Your Loving" *
"Wings Of The Storm" *
"Sailing Ships" *
"Sweet Lady Luck" *
"Parking Ticket" *
"Kill For The Cut (In Desperate Search Of A Melody)" *
"Burning Heart" *
"Ain't Gonna Cry No More" (Instrumental) *
"We Wish You Well" *
Disc Five: A Trip To Granny's House:
Session Tapes, Wheezy Interludes & Jams
"Slow Poke Music" *
"Slip of The Tongue" *
"Judgment Day" *
"Now You're Gone" *
"Wings Of The Storm" *
"Sailing Ships" *
"Liquor And Poker" *
"Parking Ticket" *
"Kill For The Cut" *
"Ain't Gonna Cry No More" *
"We Wish You Well" *
"We Wish You Well" (Instrumental) *
"Wheezy & Sometimes Very Naughty Interludes (Be Warned!)" *
"Now You're Gone" (Revisited) *
"Death Disco" *
"Whitesnake Boogie" *
"Mike Clink's Shoes Blues" *
"Snake Shuffle" (Instrumental) *
"Doodles" *
"Dementia Polka" *
"Kill For The Cut Blues" *
"Cuban Heel Blues" *
"Adje's Blues" *
Disc Six: Live at Donington 1990
"Slip Of The Tongue"
"Slide It In"
"Judgment Day"
"Slow An' Easy"
"Kittens Got Claws"
"Is This Love"
"Cheap An' Nasty"
"Crying In The Rain"
"Fool For Your Loving"
"Here I Go Again"
"Bad Boys"
"Ain't No Love In The Heart Of The City"
"Still Of The Night"
Disc Seven: DVD-Video
Live at Donington 1990
"Slip Of The Tongue"
"Slide It In"
"Judgment Day"
"Slow An' Easy"
"Kittens Got Claws"
"Adagio For Strato"
"Flying Dutchman Boogie"
"Is This Love"
"Cheap An' Nasty"
"Crying In The Rain" (featuring Tommy Aldridge Drum solo)
"Fool For Your Loving"
"For The Love Of God"
"The Audience Is Listening"
"Here I Go Again"
"Bad Boys"
"Ain't No Love In The Heart Of The City"
"Still Of The Night"
End Credits: "We Wish You Well"
Promo Videos
"Fool For Your Loving" – Music Video
"Now You're Gone" – Music Video
"The Deeper The Love" – Music Video
Bonus Features
"Sweet Lady Luck" – Purplesnake Video
Behind the Scenes: The Making of Slip Of The Tongue
A Look Back: Whitesnake Chronicles with DC & Adrian Vandenberg
* previously unreleased
---
You may also like