La Guía Rock Is Here de Manchester a días de su salida
---
La edición del nuevo libro de la Colección Rock Is Here ya está casi con nosotros:
MANCHESTER: LA GUÍA DEFINITIVA PARA CONOCER LOS LUGARES HISTÓRICOS DEL ROCK de Marcelo Lamela es otro viaje a través del tiempo y de las mejores historias y sitios donde el Rock hizo de las suyas y dejó registros para la posteridad.
Con 62 capítulos principales y más de 40 bonus para aprovechar cada visita lo mejor posible, el libro es un despliegue de eventos rockeros que persistirán para siempre.
Como en cada libro/guía de la Serie, Manchester incluye:
 Estudios de grabación
 Clubes históricos
 Casas de artistas eternos
 Sitios que inspiraron canciones
 Locaciones de fotos inolvidables
El lanzamiento de este tercer libro Rock Is Here será de una tirada inicial limitada a sólo 500 ejemplares y a un precio especial para estas fechas de sólo $ 995. Asegurate el tuyo.
Para todo aquel que quiera completar la Colección también hay combos, a saber:
MANCHESTER + LONDRES: $ 1.900.-
MANCHESTER + BUENOS AIRES: $ 1.750.-
MANCHESTER + LONDRES + BUENOS AIRES: $ 2.600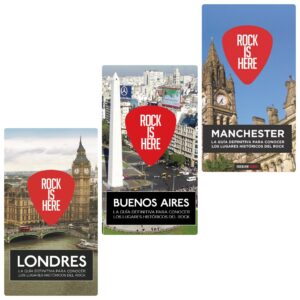 Allí donde bandas surgidas del Gran Manchester como Oasis, Joy Division, The Verve, Happy Mondays, The Smiths, The Stone Roses, New Order, Elbow, o visitantes ilustres como The Beatles, Bob Dyan, Sex Pistols, Genesis, The Rolling Stones, Blur y tantos más dejaron su huella, ahi estuvimos para registrar en las páginas de Manchester las anécdotas y la data que cada uno de ellos nos dejaron para hacerte emocionar una vez más.
VIAJÁ CON ROCK IS HERE. CONOCEMOS CADA RINCÓN DE TU PASIÓN
---
You may also like