SOHO: EL ROCK TOUR MÁS PEDIDO DEL 2022
---
Nuestro tour por el SOHO LONDINENSE: quizás sea el más pedido en este 2022. Por la cantidad de lugares histórica y musicalmente impactantes que vemos en sólo dos horas por el bohemio barrio.
Es un recorrido siempre cambiante basado en nuestro libro LONDRES: LA GUÍA DEFINITIVA PARA CONOCER LOS LUGARES HISTÓRICOS DEL ROCK en el que se pueden ver entre otros, sitios hechos eternos por David Bowie, The Rolling Stones, The Beatles, Sex Pistols, Yes, Pink Floyd, Led Zeppelin, Oasis, Genesis, The Who, Black Sabbath y varios etcéteras.
Recomendación especial: cada Tour Rock Is Here es una caminata muy atractiva por la historia y presente de una ciudad espléndida. Por eso y para un mayor disfrute, sugerimos venir a los recorridos con calzado cómodo.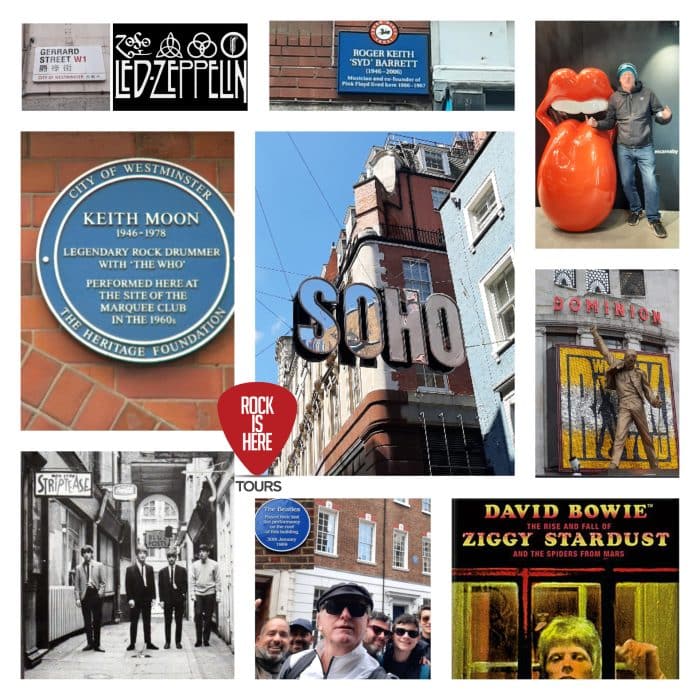 Un tour FASCINANTE. Y EN TU IDIOMA.
Visita www.rockishere.com/rock-tours para otras opciones
En este video y en apenas 5 minutos pueden ver una pequeña muestra de lo que se puede disfrutar el Soho de Londres en un paseo con Rock Is Here Tours. Lugares hechos eternos relacionados con la historia del Rock. El sitio donde "nacieron" los Stones + el pub cercano al Marquee Club preferido de Bowie, Brian May, The Clash, Syd Barrett + un estudio fundamental para Elton John, Bowie, el Album Blanco, Rush, Genesis, etc…
CONSULTAS Y RESERVAS A INFO@ROCKISHERE.COM O WHATSAPP AL (+44)7735353709
---
You may also like