Seguimos amando al extraterrestre (y exprimiendo su legado)
---
David Bowie / Nuevos box sets 'Loving The Alien' / 15LP o 11CD en octubre
Álbumes de los 80 remasterizados • versión 2018 de 'Never Let Me Down' • selección de remixes clave • dos álbumes en vivo • 'Recall 4' presenta singles / B-sides
Por cuarto año consecutivo, Parlophone Records lanzará un gran conjunto de cajas que resume una era en la vida musical de David Bowie. Este mes de octubre, Loving The Alien (1983-1988) presentará los tres álbumes solistas de Bowie del período en cuestión, y ofrecerá a los fans un montón de contenido adicional, incluyendo una "nueva producción" de Never Let Me Down de 1987, el primer lanzamiento de audio de la Serious Moonlight Tour y un álbum de remixes.
El nuevo conjunto de cajas Loving The Alien llega en un box set de vinilo de 15LP o en uno de 11CD. Cuenta con versiones recientemente remasterizadas de Let's Dance (1983), Tonight (1984) y Never Let Me Down (1987).
La versión de vinilo 11CD de Loving The Alien: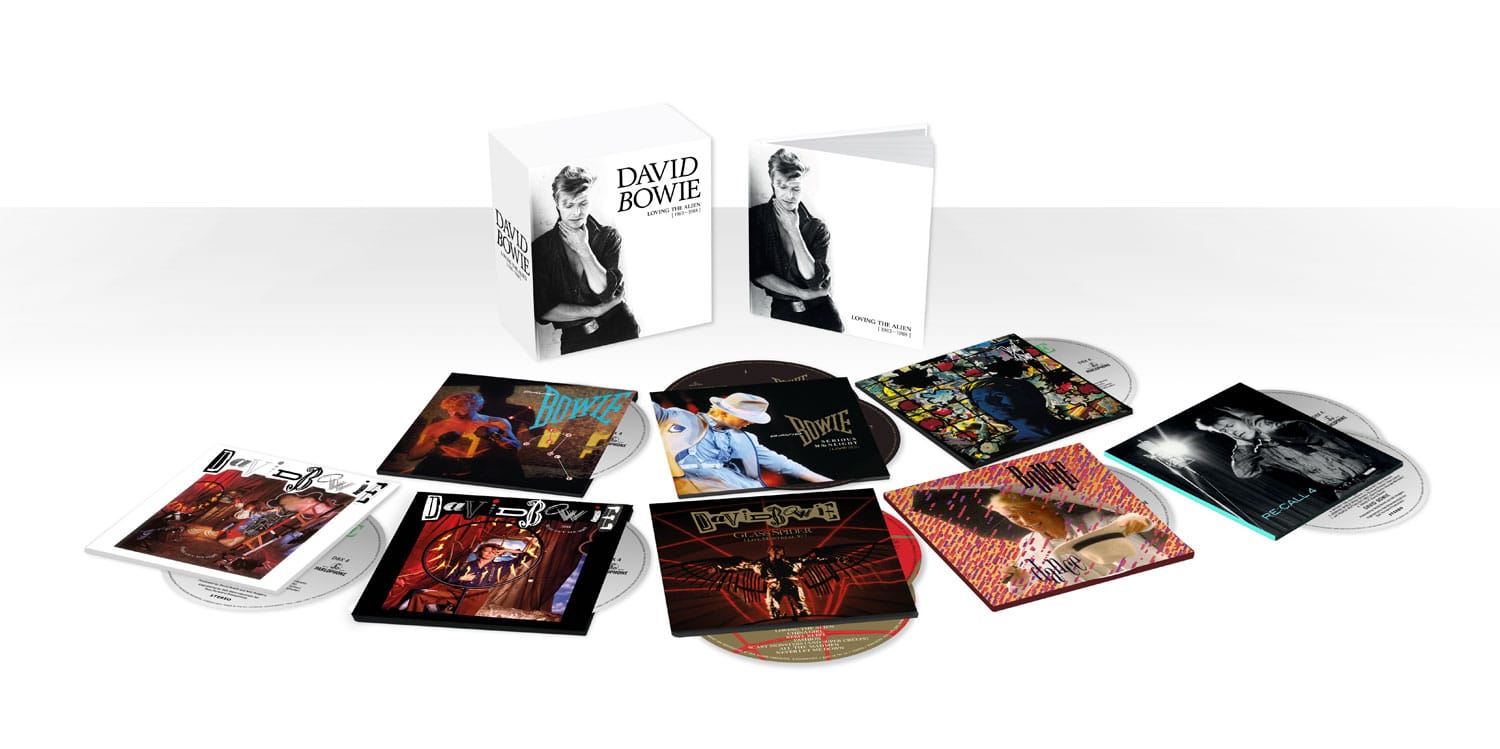 Como antes, ambos boxes vienen con un libro de acompañamiento (128 páginas en el CD y 84 en el vinilo) que contará con fotos raramente vistas y sin publicar previamente de fotógrafos como Denis O' Regan, Greg Gorman, Herb Ritts y muchos otros junto a reseñas de prensa históricas y notas técnicas sobre los álbumes de los productores / ingenieros Nile Rodgers, Hugh Padgham, Mario McNulty y Justin Shirley-Smith.
El set de caja 11CD ofrece las siempre excelentes versiones de réplica de vinilo 'mini-LP CD' de estilo japonés de los álbumes originales (los CDs volverán a ser de color dorado). El conjunto de 15LP está presionado en vinilo de calidad 180g 'audiophile'.
Ambas ediciones de Loving The Alien se lanzan el 12 de octubre de 2018. Veremos que opinan los fans ya que anteriores de estos boxes que engloban etapas del Duque Blanco han sido bastante criticadas por el sonido de las nuevas mezclas, fundamentalmente las de "A New Career In A New Town (1977-1982)
Tracks:
Loving The Alien 15LP Box Set
88 Page hardback book
Let's Dance (remastered) (1LP)
Serious Moonlight (Live '83) (previously unreleased) (2LP)*
Tonight (remastered) (1LP)
Never Let Me Down (remastered) (1LP)
Never Let Me Down (2018) (previously unreleased) (2LP – side 4 is etched)*
Glass Spider (Live Montreal '87) (previously unreleased on vinyl) (3LP)*
Dance (2LP)*
Re:Call 4 (non-album singles, edits, single versions, b-sides and soundtrack music) (remastered) (3LP)*
* Exclusive to 'Loving The Alien (1983-1988) LP box'
Detail:
LET'S DANCE
Side 1
Modern Love
China Girl
Let's Dance
Without You
Side 2
Ricochet
Criminal World
Cat People (Putting Out Fire)
Shake It
SERIOUS MOONLIGHT (LIVE '83)
Side 1
Look Back In Anger
"Heroes"
What In The World
Golden Years
Fashion
Let's Dance
Side 2
Breaking Glass
Life On Mars?
Sorrow
Cat People (Putting Out Fire)
China Girl
Scary Monsters (And Super Creeps)
Rebel Rebel
Side 3
White Light / White Heat
Station To Station
Cracked Actor
Ashes To Ashes
Side 4
Space Oddity/Band Introduction
Young Americans
Fame
Modern Love
TONIGHT
Side 1
Loving The Alien
Don't Look Down
God Only Knows
Tonight
Side 2
Neighborhood Threat
Blue Jean
Tumble And Twirl
I Keep Forgettin'
Dancing With The Big Boys
NEVER LET ME DOWN
Side 1
Day-In Day-Out
Time Will Crawl
Beat Of Your Drum
Never Let Me Down
Zeroes
Side 2
Glass Spider
Shining Star (Makin' My Love)
New York's In Love
'87 And Cry
Bang
NEVER LET ME DOWN (2018)
Side 1
Day-In Day-Out
Time Will Crawl
Beat Of Your Drum
Side 2
Never Let Me Down
Zeroes
Glass Spider
Side 3
Shining Star (Makin' My Love) (ft Laurie Anderson)
New York's In Love
87 & Cry
Bang Bang
Side 4
David Bowie 1987 logo etching
GLASS SPIDER (LIVE MONTREAL '87)
Side 1
Up The Hill Backwards
Glass Spider
Day-In Day-Out
Bang Bang
Side 2
Absolute Beginners
Loving The Alien
China Girl
Rebel Rebel
Side 3
Fashion
Scary Monsters (And Super Creeps)
All The Mad Men
Never Let Me Down
Side 4
Big Brother
'87 And Cry
"Heroes"
Sons Of The Silent Age
Time Will Crawl / Band Introduction
Side 5
Young Americans
Beat Of Your Drum
The Jean Genie
Let's Dance
Side 6
Fame
Time
Blue Jean
Modern Love
DANCE
Side 1
1 Shake It (Re-mix aka Long Version)
(Originally released on the B-side of the 'China Girl' 12" single on EMI America 12EA 157 (U.K.) and V-7809 (U.S.) in May, 1983.)
2 Blue Jean (Extended Dance Mix)
(Originally released on 12" single on EMI America 12EA 181 (U.K.) and V-7838 (U.S.) in September, 1984.)
3 Dancing With The Big Boys (Extended Dance Mix)
(Originally released on the B-side of the 'Blue Jean' 12" single alongside an Extended Dub Mix of the same, release details as above.)
Side 2
1 Tonight (Vocal Dance Mix)
(Originally released on 12" single on EMI America 12EA 187 (U.K.) and V-7846 (U.S.) in November, 1984.)
2 Don't Look Down (Extended Dance Mix)
(Originally released on the B-side of the 'Loving The Alien' (Extended Dance Mix) 12" single alongside the 'Loving The Alien' (Extended Dub Mix) on EMI America 12EA 195 (U.K.) and VG-7858 (U.S.) in May, 1985.)
3 Loving The Alien (Extended Dub Mix)
(Originally released on the B-side of the 'Loving The Alien' (Extended Dance Mix) 12" single, release details as above.)
Side 3
1 Tumble And Twirl (Extended Dance Mix)
(Originally released on the B-side of the 'Tonight' 12" single alongside a 'Tonight' (Dub Mix), release details as above.)
2 Underground (Extended Dance Mix)
(Originally released on 12" single on EMI America 12EA 216 (U.K.) and V-19210 (U.S.) in June, 1986.)
3 Day-In Day-Out (Groucho Mix)
(Originally released on 12" single on EMI America 12EAX 230 (U.K.) and V-19239 (U.S.) in March, 1987.)
Side 4
1 Time Will Crawl (Dance Crew Mix)
(Originally released on 12" single on EMI America 12EAX 237 (U.K.) in June, 1987.)
2 Shining Star (Makin' My Love) (12" mix)
(Originally released on the 'Never Let Me Down' digital E.P. on EMI 0094639278954 in May, 2007.)
3. Never Let Me Down (Dub/Acapella)
(Originally released on the B-side of the 'Never Let Me Down' (Extended Dance Mix) 12" single on EMI America 12EA 239 (U.K.) and V-19255 (U.S.) in August, 1987.)
RE:CALL 4
Side 1
Let's Dance (single version)
China Girl (single version)
Modern Love (single version)
This Is Not America (The theme from 'The Falcon And The Snowman') – David Bowie / Pat Metheny Group
Loving The Alien (re-mixed version)
Side 2
Don't Look Down (re-mixed version)
Dancing In The Street (Clearmountain mix) – David Bowie and Mick Jagger
Absolute Beginners (from Absolute Beginners)
That's Motivation (from Absolute Beginners)
Volare (from Absolute Beginners)
Side 3
Labyrinth Opening Titles/Underground (from Labyrinth)
Magic Dance (from Labyrinth)
As The World Falls Down (from Labyrinth)
Within You (from Labyrinth)
Underground (from Labyrinth)
Side 4
When The Wind Blows (single version) (from When The Wind Blows)
Day-In Day-Out (single version)
Julie
Beat Of Your Drum (vinyl album edit)
Glass Spider (vinyl album edit)
Side 5
Shining Star (Makin' My Love) (vinyl album edit)
New York's In Love (vinyl album edit)
'87 And Cry (vinyl album edit)
Bang Bang (vinyl album edit)
Time Will Crawl (single version)
Side 6
Girls (extended edit)
Never Let Me Down (7" remix edit)
Bang Bang (live – promotional mix)
Tonight (live) Tina Turner with David Bowie
Let's Dance (live) Tina Turner with David Bowie
Loving The Alien 11CD box set
Summary
128 Page hardback book
Let's Dance (remastered) (1CD)
Serious Moonlight (Live '83) (previously unreleased) (2CD)
Tonight (remastered) (1CD)
Never Let Me Down (remastered) (1CD)
Never Let Me Down 2018 (previously unreleased) (1CD)*
Glass Spider (Live Montreal '87) (2CD)
Dance (1CD)*
Re:Call 4 (non-album singles, edits, single versions, b-sides and soundtrack music) (remastered) (2CD)*
* Exclusive to 'Loving The Alien (1983-1988)'
Detail:
CD TRACKLISTING
LET'S DANCE
Modern Love
China Girl
Let's Dance
Without You
Ricochet
Criminal World
Cat People (Putting Out Fire)
Shake It
SERIOUS MOONLIGHT (LIVE '83)
CD1
Look Back In Anger
"Heroes"
What In The World
Golden Years
Fashion
Let's Dance
Breaking Glass
Life On Mars?
Sorrow
Cat People (Putting Out Fire)
China Girl
Scary Monsters (And Super Creeps)
Rebel Rebel
CD2
White Light / White Heat
Station To Station
Cracked Actor
Ashes To Ashes
Space Oddity/Band Introduction
Young Americans
Fame
Modern Love
TONIGHT
Loving The Alien
Don't Look Down
God Only Knows
Tonight
Neighborhood Threat
Blue Jean
Tumble And Twirl
I Keep Forgettin'
Dancing With The Big Boys
NEVER LET ME DOWN
Day-In Day-Out
Time Will Crawl
Beat Of Your Drum
Never Let Me Down
Zeroes
Glass Spider
Shining Star (Makin' My Love)
New York's In Love
'87 And Cry
Bang Bang
NEVER LET ME DOWN (2018)
Day-In Day-Out
Time Will Crawl
Beat Of Your Drum
Never Let Me Down
Zeroes
Glass Spider
Shining Star (Makin' My Love) (ft Laurie Anderson)
New York's In Love
'87 And Cry
Bang Bang
GLASS SPIDER (LIVE MONTREAL '87)
CD 1
Up The Hill Backwards
Glass Spider
Day-In Day-Out
Bang Bang
Absolute Beginners
Loving The Alien
China Girl
Rebel Rebel
Fashion
Scary Monsters (And Super Creeps)
All The Mad Men
Never Let Me Down
CD 2
Big Brother
'87 And Cry
"Heroes"
Sons Of The Silent Age
Time Will Crawl / Band Introduction
Young Americans
Beat Of Your Drum
The Jean Genie
Let's Dance
Fame
Time
Blue Jean
Modern Love
DANCE
Shake It (Re-mix aka Long Version)
Blue Jean (Extended Dance Mix)
Dancing With The Big Boys (Extended Dance Mix)
Tonight (Vocal Dance Mix)
Don't Look Down (Extended Dance Mix)
Loving The Alien (Extended Dub Mix)
Tumble And Twirl (Extended Dance Mix)
Underground (Extended Dance Mix)
Day-In Day-Out (Groucho Mix)
Time Will Crawl (Dance Crew Mix)
Shining Star (Makin' My Love) (12" mix)
Never Let Me Down (Dub/Acapella)
RE:CALL 4
CD 1
Let's Dance (single version)
China Girl (single version)
Modern Love (single version)
This Is Not America (The theme from 'The Falcon And The Snowman') – David Bowie / Pat Metheny Group
Loving The Alien (re-mixed version)
Don't Look Down (re-mixed version)
Dancing In The Street (Clearmountain mix) – David Bowie and Mick Jagger
Absolute Beginners (from Absolute Beginners)
That's Motivation (from Absolute Beginners)
Volare (from Absolute Beginners)
Labyrinth Opening Titles/Underground (from Labyrinth)
Magic Dance (from Labyrinth)
As The World Falls Down (from Labyrinth)
Within You (from Labyrinth)
Underground (from Labyrinth)
CD 2
When The Wind Blows (single version) (from When The Wind Blows)
Day-In Day-Out (single version)
Julie
Beat Of Your Drum (vinyl album edit)
Glass Spider (vinyl album edit)
Shining Star (Makin' My Love) (vinyl album edit)
New York's In Love (vinyl album edit)
'87 And Cry (vinyl album edit)
Bang Bang (vinyl album edit)
Time Will Crawl (single version)
Girls (extended edit)
Never Let Me Down (7" remix edit)
Bang Bang (live – promotional mix)
Tonight (live) Tina Turner with David Bowie
Let's Dance (live) Tina Turner with David Bowie
---
You may also like