Motörhead y la reedición deluxe de Ace Of Spades
---
El clásico, fundamental álbum de Motörhead, Ace of Spades, gozará de una reedición masiva en octubre próximo. El relanzamiento de lujo -hay también una versión super deluxe- contará con dos álbumes en vivo inéditos y un montón de versiones alternativas de las canciones del álbum. Debajo podrás ver un video anticipo de la colección con una versión en vivo, previamente desconocida de la canción que le dio nombre al disco, grabada en el Whitla Hall de Belfast en diciembre de 1981.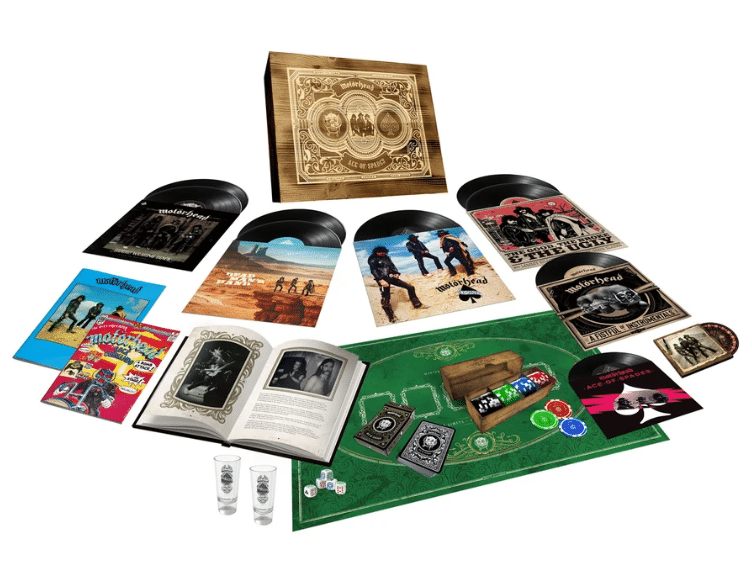 Los box sets, que salen el 30 de octubre, presentan una colección de demos instrumentales, lados B, tomas y versiones alternativas. Parte del material ya salió en anteriores reediciones, pero los álbumes en vivo no se publicaron anteriormente. Esos incluyen el concierto de Whitla Hall y un espectáculo de marzo de 1981 grabado en Orleans. También incluye un DVD con imágenes de Motörhead en la televisión en ese momento, sus apariciones en la BBC y una mezcla de audio 5.1 de Ace of Spades.
El combo de lujo también incluirá un libro de 40 páginas con entrevistas y fotos inéditas, el libro de la gira Ace Up Your Sleeve, un cómic y una reproducción del single holandés de vinilo de 7″ de Ace Of Spades. También contiene cinco dados que se pueden usar para un juego de mesa impreso en la tapa interior.
También habrá versiones más simples de cd y vinilos también remasterizados.
Lemmy – bajo, voz/ «Fast» Eddie Clarke –guitarra lider/ Phil «Philthy Animal» Taylor – batería
Tracklists

Ace of Spades

Side One
Ace Of Spades
Love Me Like A Reptile
Shoot You In The Back
Live To Win
Fast And Loose
(We Are) The Road Crew

Side Two
Fire Fire
Jailbait
Dance
Bite The Bullet
The Chase Is Better Than The Catch
The Hammer

A Fistful Of Instrumentals 10″

Side One
Ace Of Spades (Instrumental demo)
Hump On Your Back (Instrumental demo)
Shoot You In The Back (Instrumental demo)
Fast And Loose (Instrumental demo)

Side Two
Dirty Love (Instrumental demo)
Love Me Like A Reptile (Instrumental demo)
Dance (Instrumental demo)

Live At Parc Expo, Orleans – 5th March 1981

Side One
Ace Of Spades
Stay Clean
Over The Top
Metropolis
Shoot You In The Back

Side Two
The Hammer
Jailbait
Leaving Here
Fire Fire
Love Me Like A Reptile

Side Three
Capricorn
Too Late, Too Late
(We Are) The Road Crew
No Class

Side Four
Bite The Bullet
The Chase Is Better Than The Catch
Overkill
Bomber
Live At Whitla Hall, Belfast – 23rd Dec 1981

Side One
Ace Of Spades
Stay Clean
Over The Top
The Hammer
Shoot You In The Back
Metropolis

Side Two
(We Are) The Road Crew
No Class
Bite The Bullet
The Chase Is Better Than The Catch

Side Three
Jailbait
Leaving Here
Capricorn
Too Late, Too Late

Side Four
Overkill
Bomber
Motörhead


The Good, The Broke & The Ugly

Side One
Ace Of Spades (Alternative Version)
Dirty Love
Love Me Like A Reptile (Alternative Long Version)
Shoot You In The Back (Alternative Version)

Side Two
Hump On Your Back
Fast And Loose (Alternative Version)
(We Are) The Road Crew (Alternative Version)
Fire Fire (Alternative Version)
Jailbait (Alternative Version)

Side Three
Waltz Of The Vampire
The Hammer (Alternative Version)
Dirty Love (Alternative Long Version)
Bastard
Godzilla Akimbo

Side Four
Love Me Like A Reptile (Alternative Version)
Dirty Love (Alternative Version)
Please Don't Touch (Performed by Headgirl)
Bomber (Performed by Girlschool)
Emergency


Ace of Spades 7″ (D2C exclusive)

Side One
Ace Of Spades

Side Two
Ace Of Spades (Instrumental – previously unreleased)



Ace On Your Screens DVD

Part 1 : Motörhead on TV 1980-1981
Part 2 : BBC In The City; Live In Belfast '81
Part 3 : 5.1 audio mix of Ace Of Spades

---
You may also like