---
Para celebrar el vigésimo aniversario del álbum debut de Muse, Showbiz, la banda ha anunciado el lanzamiento del box set de lujo Origin of Muse, disponible desde el 6 de diciembre de 2019. Este set hará una crónica de la banda desde sus inicios en Devon, sus primeros demos, primeros EPs, álbum debut y el innovador segundo álbum Origin of Symmetry.
La colección viene con un libro encuadernado en caja de 48 páginas que se encuentra en un estuche rígido acabado con laminado mate. El libro contiene una entrevista extensa con Matt, Dom y Chris mientras hablan sobre los primeros comienzos de la banda, así como la grabación y lanzamiento de su álbum debut Showbiz y de Origin of Symmetry. También incorpora afiches originales, listas de reproducción, fotografías y hojas de contacto, que se insertan y se pueden extraer del libro, así como el arte original de cada disco.
El audio llega en 9 CDs y 4 vinilos de colores que contienen los siguientes aspectos destacados:
CD1 – Newton Abbot Demos -15 demos inéditos incluyendo una versión temprana de "Plug in Baby"
CD2 – The Muse EPs + Showbiz Demos
CD3 – Showbiz – Remasterizado
CD4 – Showbiz B Sides – Incluye versión alternativa inédita de "Recess"
CD5 – Showbiz Live – Previously unreleased recording of live shows broadcast on BBC Radio One in 1999/2000
CD6 – Origin of Symmetry Instrumental Demos – Previously unreleased recorded at the Community Centre in Teignmouth
CD7 – Origin of Symmetry – Remastered
CD8 – Origin of Symmetry B Sides –
CD9 – Origin of Symmetry Live at Reading Festival – Full version
Vinyl 1-4 – Showbiz and Origin of Symmetry remasterizados y en vinilos de 180 gramos de color.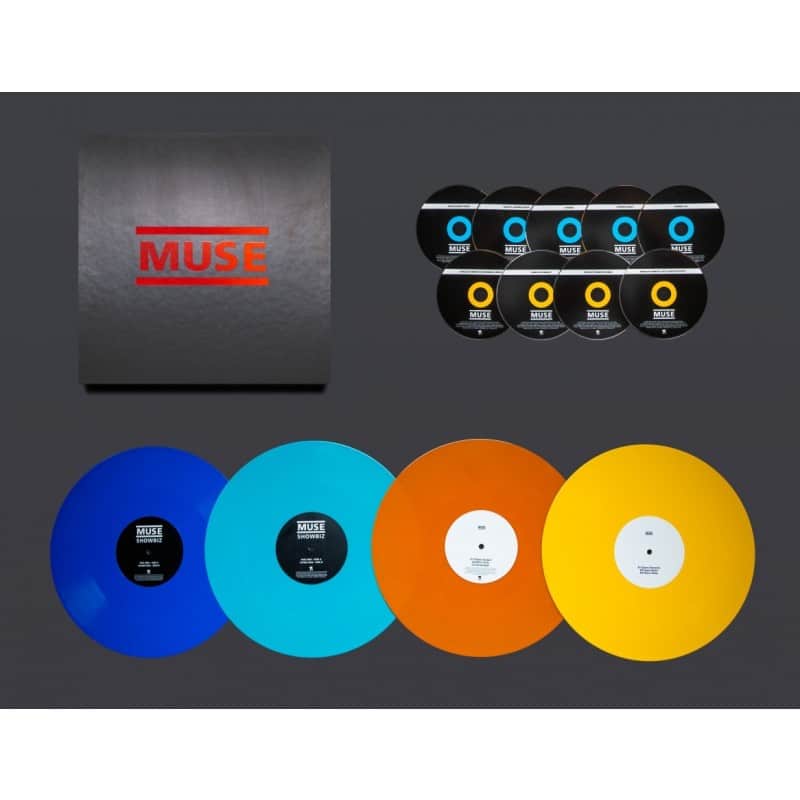 ---
You may also like