La guitarra de Kurt Cobain en MTV, en subasta
---
La guitarra que Kurt Cobain utilizó durante el famoso concierto de Nirvana MTV Unplugged in New York será subastada en Julien's Auctions y la estimación inicial de venta es de 1 millón de dólares.
La subasta tendrá lugar los días 19 y 20 de junio en Beverly Hills y en el sitio web de Julien's Auctions. Antes de la venta, la guitarra se exhibirá en el Hard Rock Cafe en Piccadilly Circus, Londres, del 15 al 31 de mayo, y en Julien's Auctions en Beverly Hills, del 15 al 19 de junio.
La guitarra es una Martin D-18E de 1959, y el lote de la subasta también incluye el estuche rígido original que Cobain había adornado con un volante para el álbum de 1990 de la banda Poison Idea, Feel the Darkness. Dentro del estuche hay un paquete medio usado de cuerdas de guitarra Martin, tres púas y una "bolsa de gamuza" de ante que está decorada con un pequeña cuchara de plata, tenedor y cuchillo (Rolling Stone).
"Esta importante guitarra se ha ganado el lugar que le corresponde en la historia del rock & roll como el instrumento interpretado por uno de los músicos e íconos más influyentes del rock en una de las mejores y más memorables actuaciones en vivo de todos los tiempos", Darren Julien, presidente y CEO de casa de subastas, dijo en un comunicado.
Junto con la guitarra Unplugged, la venta de "Music Icons" contará con otros lotes de Nirvana, incluido una Fender Stratocaster que Cobain destrozó durante la gira In Utero de 1994, la camisa lamé plateada que usó en el video "Heart-Shaped Box", la lista mecanografiada del concierto de Unplugged, y las hojas de letras que usó para "Plateau", "The Man Who Sold the World" y "Lake of Fire". En octubre pasado, el cardigan que llevaba Cobain durante Unplugged se vendió en Julien's Auctions por un récord de $ 334,000.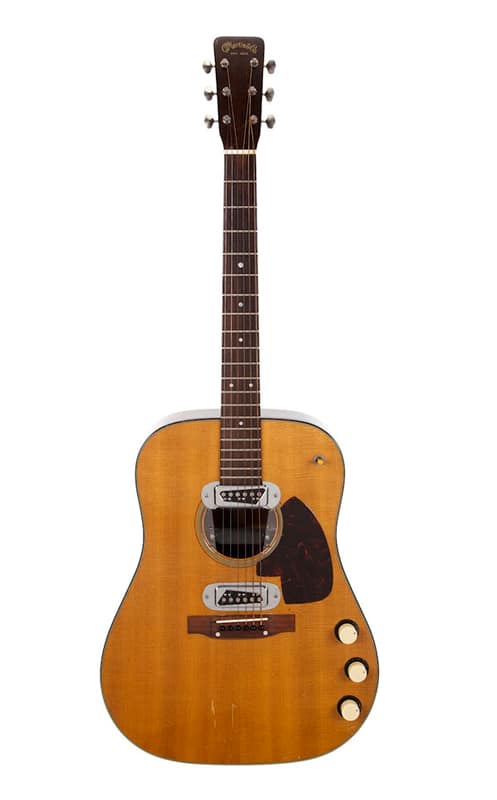 Por supuesto, si es que todavía no viste ese MTV de Nirvana, es tiempo que lo hagas. Un concierto sublime que termina con una de las ejecuciones más impresionantes de la historia: la versión desgarradora de Cobain en Where Do You Sleep Last Night? (también conocida anteriormente con In The Pines o My Girl) ejecutada con esta misma guitarra.
---
You may also like