Reedición de lujo: el Hope & Anchor Front Row Festival
---
Se edita una grabación en vivo de una notable selección de bandas que tocaron en el famoso pub Hope & Anchor del barrio de Islington en Londres durante The Front Row Festival del 22 de noviembre al 15 de diciembre de 1977. Muchos de estos actos -entonces prácticamente noveles- tuvieron un gran éxito muy pronto, como por ejemplo The Stranglers, XTC, Wilko Johnson y Dire Straits.
Editado en vinilo negro 2LP por primera vez desde 1978 -también habrá una edición en CD- , esta es una joya digna de tener en cualquier discoteca que se precie de tal, con muchos grupos pronto importantes en pleno despegue y en medio del furor punk.
Más data sobre sobre el célebre Hope & Anchor la podés encontrar en nuestro libro LONDRES: LA GUÍA DEFINITIVA PARA CONOCER LOS LUGARES HISTÓRICOS DEL ROCK. Aquí, un extracto:
Islington – The Hope and Anchor Public House (Pub)

Dirección: 207 Upper Street

Estación: Highbury & Islington

Línea: Great Northern

El pub Hope and Anchor tiene una interesante historia de bandas que han tenido su debut en vivo allí: Keane en 1998, Joy Division -tras varios shows en el norte de Inglaterra- tuvo su bautismo en Londres en este lugar, el 1ero de Marzo de 1979 (días días antes que en el Marquee de Wardour Street, cuando secundaron a The Cure), y además tiene una bien ganada fama como venue clásica de los movimientos punk/new wave.

Entre el 22 de Noviembre y el 15 de Diciembre de 1977, se llevó a cabo allí el Hope & Anchor Front Row Festival, con bandas en vivo que serían retratadas en un Long Play doble del mismo nombre del festival: algunas de las bandas incluídas fueron Dire Straits, The Stranglers, XTC, The Steve Gibbons Band, The Pirates, etc.

The Stranglers, además, grabaron allí su Live At the Hope and Anchor. Dr Feelgood y la primer banda de Ian Dury, Kilburn And The High Roads, fueron habitués del sitio. Por el mismo han pasado bandas como U2, The Police, The Stray Cats.
Madness filmó en su interior, el famoso video clip de One Step Beyond.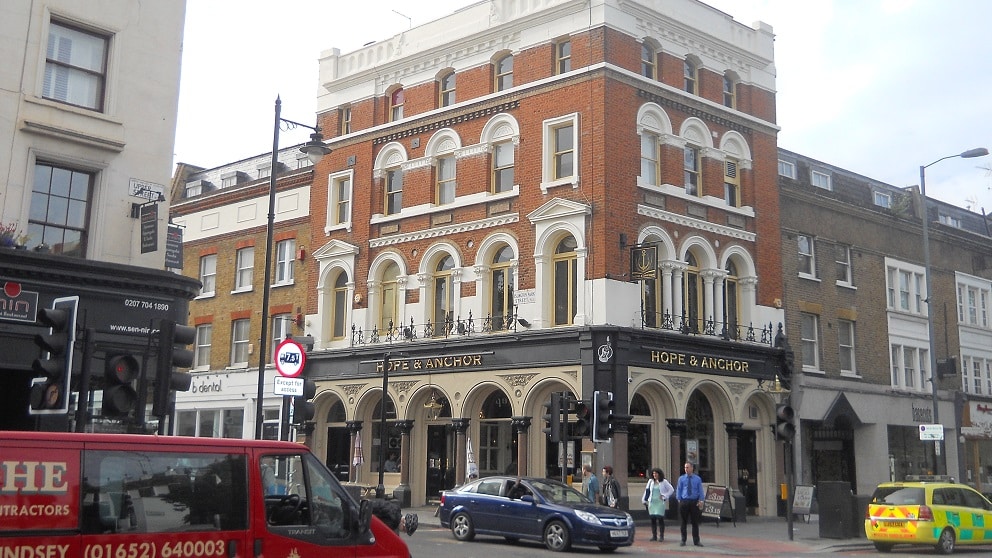 ---
You may also like