New Order reedita Power, Corruption & Lies
---
New Order relanza este 2 de octubre su disco de 1983, Power, Corruption & Lies, remasterizado por primera vez de las cintas analógicas originales. El lanzamiento llega en un box set con vinilos de edición limitada, 2CD, 2DVD y libro de tapa dura, 4x 12 «individual.
La caja que incluye un LP, dos CD, dos DVD y un libro, presenta el álbum remasterizado por primera vez de los masters de cintas analógicas originales en LP y CD. El CD Extras contiene sesiones de composición inéditas de las salas de ensayo de New Order en Manchester y la sesión John Peel de 1982 para la BBC. Los DVD capturan a New Order en vivo durante 1982 y 83 en The Hacienda y Kilkenny, el documental de televisión Play at Home Channel 1984 de 1984 y otras raras presentaciones en vivo y de televisión. Finalmente, un hermoso libro de tapa dura de 48 páginas de fotos raras y un ensayo completamente nuevo de Dave Simpson completa la caja diseñada por Peter Saville.
PC&L fue grabado en 1982 en los estudios Britannia Row pertencientes a Pink Floyd y sito en el barrio de Islington, Londres.
Además, los 12 «Vinyl Singles: Blue Monday, -el single de 12» más vendido de todos los tiempos en el Reino Unido- y Confusion se remasterizaron en Abbey Road, junto con el lanzamiento original de Factory Thieves Like Us and Murdery serán lanzados el mismo día de octubre que el box de Power.
POWER, CORRUPTION & LIES
Lado 1
«Age of Consent» 5:16
«We All Stand» 5:14
«The Village» 4:37
«5 8 6» 7:31
Lado 2
N.º Título Duración
«Your Silent Face» 6:00
«Ultraviolence» 4:52
«Ecstasy» 4:25
«Leave Me Alone» 4:40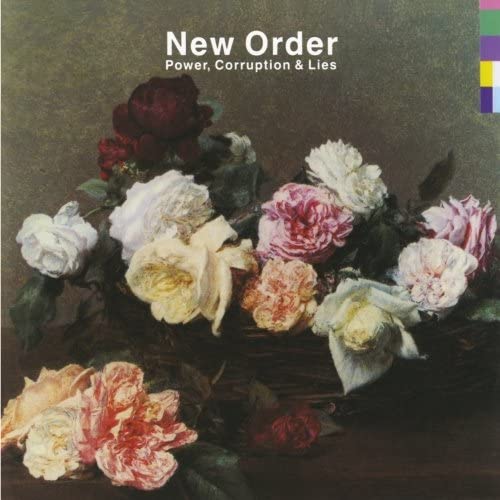 DVD 2
1 Play At Home
2 Channel 4, 1984 documentary made by New Order
EXTRAS
1 Your Silent Face (The Hacienda, Manchester, 1983)
2 5 8 6 (The Hacienda, Manchester, 1983)
3 We All Stand (Recreation Centre, Tolworth, 1983)
4 Leave Me Alone (Recreation Centre, Tolworth, 1983)
5 Love Will Tear Us Apart (Tower Ballroom, Birmingham, 1983)
6 Ultraviolence (First Avenue, Minneapolis, 1983)
7 The Village (Uni-Mensa, Dusseldorf, 1984)
8 Thieves Like Us (Alabamahalle, Munich, 1984)
9 Blue Monday (Alabamahalle, Munich, 1984)
10 Lonesome Tonight (Metropol, Berlin, 1984)
11 Confusion (Metropol, Berlin, 1984)
LIVE SHOW
1 The Hacienda, Manchester, 1983
2 Blue Monday
3 Age Of Consent
4 Lonesome Tonight
5 Your Silent Face
6 Leave Me Alone
7 5 8 6
8 Denial
9 Confusion
10 Temptation
11 Thieves Like Us
12 In A Lonely Place
13 Everything's Gone Green
NEW ORDER – POWER CORRUPTION AND LIES DVD
1 DVD 1
2 Live Shows
3 The Hacienda, Manchester, 1982
4 In A Lonely Place
5 Ultraviolence
6 Denial
7 The Village
8 We All Stand
9 Senses
10 Chosen Time
11 5 8 6
12 Temptation
13 Everything's Gone Green
NEW YORK DEMO #1
1 Thieves Like Us*
2 Writing Session Recordings
3 Thieves Like Us *
4 Murder *
5 Blue Monday *
6 Blue Monday *
7 Album Session Recording
8 Blue Monday (Instrumental Outtake)
9 *Previously unreleased
POWER CORRUPTION AND LIES (FOR CD AND LP) (2020 REMASTER)
1 Age of Consent
2 We All Stand
3 The Village
4 5 8 6
5 Your Silent Face
6 Ultraviolence
7 Ecstasy
8 Leave Me Alone
POWER CORRUPTION AND LIES – EXTRAS (CD)
1 Writing Session Recordings
2 Age Of Consent *
3 The Village *
4 5 8 6 *
5 Your Silent Face *
6 Ecstasy *
7 Leave Me Alone *
8 John Peel Session
9 Turn The Heater On
10 We All Stand
11 Too Late
12 5 8 6
13 John Peel Session Outtake
14 Too Late (instrumental rough mix) *
ROSEHILL HOTEL, KILKENNY, IRELAND 1983
1 We All Stand
2 Leave Me Alone
3 Denial
4 The Village
5 Temptation
6 Confusion
7 Age Of Consent
8 Blue Monday
9 Everything's Gone Green
10 Ceremony
TV SESSIONS
1 Blue Monday (BBC Top Of The Pops, London, 1983)
2 Confusion (Countdown – 1983)
3 Age Of Consent (Switch – 1983)
4 Blue Monday (Switch – 1983)
5 Thieves Like Us (BBC Top Of The Pops, London, 1984 )
---
You may also like