Definitivamente Woodstock
---
Este próximo mes de agosto se cumple el 50 aniversario del celebérrimo festival de Woodstock, el evento definitorio de una generación y uno de los momentos más icónicos de la historia de la música popular. A pesar de su importancia cultural perdurable, nadie ha intentado documentar el festival en su totalidad. Hasta ahora.
Limitado a 1.969 copias numeradas individualmente, WOODSTOCK
BACK TO THE GARDEN: THE DEFINITIVE 50th ANNIVERSARY ARCHIVE está siendo lanzado por Rhino, quienes suelen de lanzar ediciones no solo muy cuidadas, sino con un claro esmero a la hora de mostrar el sonido como debe ser.
Ahora, un Spoiler alert: si tu billetera es flaca, podés detenerte antes de leer el precio.
799 U$S es el valor anunciado en la web oficial de Rhino para este set.https://store.rhino.com/woodstock-50-back-to-the-garden-the-definitive-anniversary-archive-1.html
Pero a no desesperar: ediciones más accesibles (si bien NO completas) estarán disponibles. El box set cuenta con 38 discos, 432 pistas (267 inéditas y solamente 3 temas no pudieron ser incluídos ), una reconstrucción casi completa del minuto a minuto de 36 horas de Woodstock incluyendo anuncios y otras perlitas, además de la actuación en orden cronológico de artistas como Santana, Jimi Hendrix, Janis Joplin, The Who, Joe Cocker, Richie Havens, The Grateful Dead, Sly & The Family Stone, Creedence Clearwater Revival, Crosby, Stills, Nash & Young , Joan Baez, Jefferson Airplane, The Band, Johnny Winter, etc. Por supuesto, como suele suceder en estos casos, el box estara repleto de memorabilia: réplicas de posters, del programa original, libro de tapa dura, blu ray y hasta una tira para colgar tu guitarra. Debajo de las imágenes, el tracklist completo.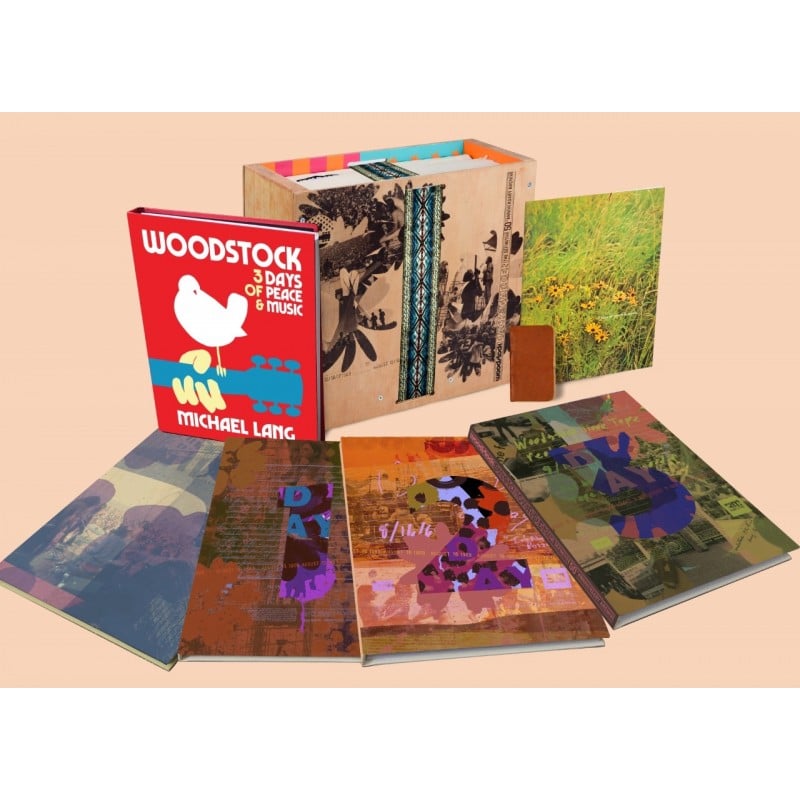 El archivo también contiene una copia de Woodstock: 3 Days Of Peace and Music (Reel Art Press), y un nuevo libro completo sobre el evento escrito por Michael Lang, uno de los co-creadores del festival.
El definitivo Woodstock se edita el 2 de agosto próximo.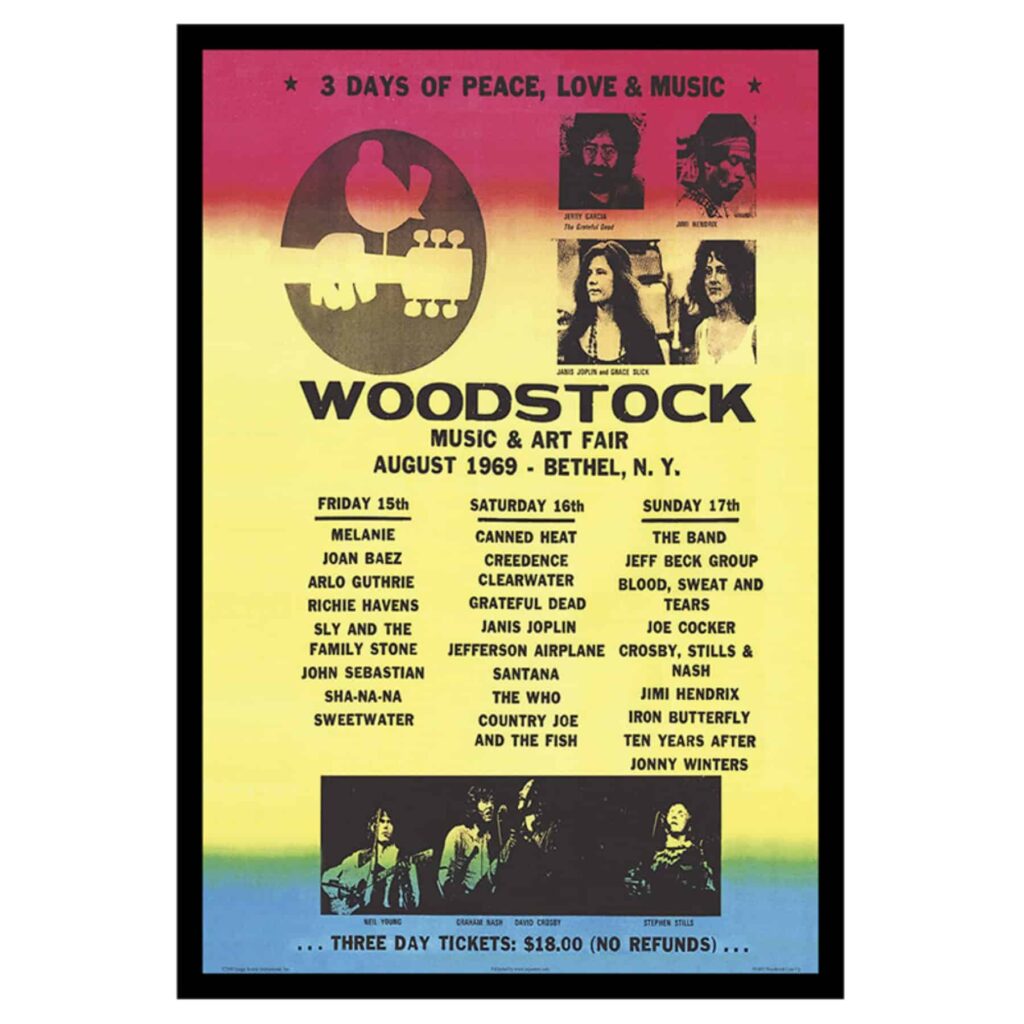 Woodstock – Back To The Garden – 50th Anniversary Archive
Day 1
Disc 1
RICHIE HAVENS
Featuring/RICHIE HAVENS: vocals, guitar • PAUL "DEANO" WILLIAMS: guitar, vocals • DANIEL BEN ZEBULON: congas
1. "Hello!" [1:49]
2. FROM THE PRISON>GET TOGETHER>FROM THE PRISON [5:08]
3. STRANGER [6:39]
4. "You're all groovy, you know" [1:23]
5. HIGH FLYING BIRD [4:18]
6. I CAN'T MAKE IT ANYMORE [6:19]
7. WITH A LITTLE HELP FROM MY FRIENDS [3:30]
8. HANDSOME JOHNNY [4:49]
9. "100 Million Songs" [1:34]
10. STRAWBERRY FIELDS FOREVER [6:42]
11. FREEDOM [5:14]
12. Sri Swami Satchidananda – "Music is the celestial sound" [17:19]
13. John Morris – "We're all here now, I guess" [0:27]
Disc 2
SWEETWATER
Featuring/FRED HERRERA: bass, vocals • ALEX DEL ZOPPO: keyboards, vocals • NANSI NEVINS: lead vocals, guitar • ALBERT MOORE: flute, vocals • R.G. CARLYLE: guitar, bongos, vocals • ELPIDO (PETE) COBAIN: congas • ALAN MALAROWITZ: drums • AUGUST BURNS: cello
1. John Morris – "We apologize for the noise of the choppity-choppity…" [6:35]
2. MOTHERLESS CHILD [8:31]
3. LOOK OUT [4:36]
4. Alex Del Zoppo – "Kick out the jams, folks" [1:00]
5. FOR PETE'S SAKE [8:27]
6. DAY SONG [2:27]
7. Nansi Nevins – "Guess it's gonna take a little more time to get together" [0:42]
8. WHAT'S WRONG [15:17]
9. MY CRYSTAL SPIDER [5:14]
10. TWO WORLDS [5:51]
11. Nansi Nevins – "There sure are a lot of people here" [1:55]
12. WHY OH WHY [4:18]
13. LET THE SUNSHINE IN [1:43]
14. OH HAPPY DAY [3:59]
Disc 3
BERT SOMMER
Featuring/BERT SOMMER: guitar, vocals • IRA STONE: electric guitar, Hammond organ, harmonica • CHARLIE BILELLO: bass
1. JENNIFER [3:40]
2. "There's too much stuff to set up" [0:30]
3. THE ROAD TO TRAVEL [4:48]
4. I WONDERED WHERE YOU'D BE [3:12]
5. SHE'S GONE [3:23]
6. THINGS ARE GOIN' MY WAY [2:31]
7. John Morris – "Come on, creep–come on down" [2:22]
8. AND WHEN IT'S OVER [3:25]
9. JEANETTE [3:36]
10. AMERICA [4:23]
11. A NOTE THAT READ [4:17]
12. SMILE [3:57]
13. John Morris – "What we do here counts" [14:45]
Disc 4
TIM HARDIN
Featuring/TIM HARDIN: vocals, guitar • RICHARD BOCK: cello • RALPH TOWNER: guitar, piano • GILLES MALKINE: guitar • GLEN MOORE: bass • STEVE "MURUGA" BOOKER: drums
1. John Morris – "Let's see how bright it can be" [1:04]
2. HOW CAN WE HANG ON TO A DREAM [4:29]
3. ONCE-TOUCHED BY FLAME [4:57]
4. IF I WERE A CARPENTER [5:39]
5. REASON TO BELIEVE [4:42]
6. YOU UPSET THE GRACE OF LIVING WHEN YOU LIE [5:22]
7. SPEAK LIKE A CHILD [4:54]
8. SNOW WHITE LADY [15:48]
9. BLUES ON MY CEILING [10:31]
10. SIMPLE SONG OF FREEDOM [4:40]
11. MISTY ROSES [4:39]
12. John Morris – "How is it out there?" [11:06]
Disc 5
RAVI SHANKAR
Featuring/RAVI SHANKAR: sitar • ALLA RAKHA: tabla • MAYA KULKARNI: Tambura
1. John Morris – "Somebody somewhere is giving out some flat blue acid" [6:30]
2. RAGA PURIYA-DHANASHRI/GAT IN SAWARITAL [11:48]
3. "I would like to introduce the instruments" [7:43]
4. TABLA SOLO IN JHAPTAL [4:06]
5. RAGA MANJ KMAHAJ [18:27]
6. John Morris – "I guess nobody's thirsty anymore" [0:34]
Disc 6
1. John Morris – "One, two, three–light 'em up!" [6:12]
MELANIE
Featuring/MELANIE: vocals, guitar
2. CLOSE TO IT ALL [3:28]
3. MOMMA MOMMA [4:33]
4. BEAUTIFUL PEOPLE [4:10]
5. ANIMAL CRACKERS [2:53]
6. MR. TAMBOURINE MAN [2:26]
7. TUNING MY GUITAR [5:16]
8. BIRTHDAY OF THE SUN [4:00]
9. John Morris – "It's a free concert from now on" [7:20]
Disc 7
ARLO GUTHRIE
Featuring/ARLO GUTHRIE: vocals, guitar • JOHN PILLA: guitar • BOB ARKIN: bass • PAUL MOTIAN: drums
1. John Morris – "Okay, Arlo?" [0:44]
2. COMING INTO LOS ANGELES [3:21]
3. "Lotta freaks!" [1:05]
4. WHEEL OF FORTUNE [3:23]
5. WALKING DOWN THE LINE [5:04]
6. THE STORY OF MOSES [10:57]
7. OH MARY, DON'T YOU WEEP [4:46]
8. "I was the only person, like, in this whole festival that, uh, you know, was, like, acquainted with the garbage scene" [4:03]
9. EVERY HAND IN THE LAND [1:54]
10. AMAZING GRACE [3:37]
11. John Morris – "Ain't nothin' can make you high as this" [6:03]
Disc 8
JOAN BAEZ
Featuring/JOAN BAEZ: vocals, guitar • JEFFREY SHURTLEFF: guitar, vocals • RICHARD FESTINGER: guitar

1. OH HAPPY DAY [4:31]
2. THE LAST THING ON MY MIND [3:31]
3. I SHALL BE RELEASED [3:48]
4. "He's fine, and we're fine, too" [3:00]
5. JOE HILL [3:02]
6. "We three together constitute the Struggle Mountain Resistance Band" [2:12]
7. SWEET SIR GALAHAD [3:51]
8. HICKORY WIND [3:53]
9. DRUG STORE TRUCK DRIVIN' MAN – featuring Jeffrey Shurtleff [2:49]
10. ONE DAY AT A TIME [4:35]
11. TAKE ME BACK TO THE SWEET SUNNY SOUTH [2:44]
12. WARM AND TENDER LOVE [4:16]
13. SWING LOW, SWEET CHARIOT [5:55]
14. "I think it's amazing that you people are still awake" [0:42]
15. WE SHALL OVERCOME [4:45]
16. John Morris – "That brings us fairly close to the dawn" [3:10]
Day 2
Disc 9
QUILL
Featuring/DAN COLE: vocals • JON COLE: bass, vocals • NORMAN ROGERS: guitar, vocals • PHIL THAYER: keyboard, saxophone, flute • ROGER NORTH: drums
1. John Morris – "Wave, funny little man" [3:20]
2. THEY LIVE THE LIFE [8:19]
3. THAT'S HOW I EAT [5:31]
4. Hugh Romney & John Morris – "Kiss those guys if they start punching somebody" [1:23]
5. DRIFTIN' [8:15]
6. Unknown – "We're over at the Hog Farm, and we have tons of food" [2:15]
7. WAITING FOR YOU [11:59]

Disc 10
COUNTRY JOE McDONALD
Featuring/COUNTRY JOE McDONALD: vocals, guitar
1. Chip Monck – "Would those of you who have taken up residence on the towers please come down?" [10:36]
2. JANIS [2:50]
3. DONOVAN'S REEF [4:04]
4. HEARTACHES BY THE NUMBER [3:06]
5. RING OF FIRE [2:50]
6. TENNESSEE STUD [3:11]
7. ROCKIN' ROUND THE WORLD [1:59]
8. FLYING HIGH [2:06]
9. I SEEN A ROCKET [1:50]
10. THE "FISH" CHEER/I-FEEL-LIKE-I'M-FIXIN'-TO-DIE RAG [3:17]
11. I-FEEL-LIKE-I'M-FIXIN'-TO-DIE RAG (Reprise) [1:51]
12. Chip Monck – "Cut, bleeding, whatever" [3:37]
Disc 11
SANTANA
Featuring/CARLOS SANTANA: guitar • GREGG ROLIE: vocals, keyboard • DAVID BROWN: bass • MICHAEL SHRIEVE: drums • MIKE CARABELLO: timbales, congas, percussion • JOSE "CHEPITO" AREAS: trumpet, timbales, congas, percussion
1. WAITING [5:11]
2. EVIL WAYS [4:34]
3. JUST DON'T CARE [4:21]
4. SAVOR [5:22]
5. JINGO [5:45]
6. PERSUASION [3:25]
7. SOUL SACRIFICE [13:04]
8. FRIED NECK BONES AND SOME HOME FRIES [6:33]
9. Chip Monck – "Wheat Germ, Holly has your bag" [16:19]
Disc 12
JOHN B. SEBASTIAN
Featuring/JOHN B. SEBASTIAN: vocals, guitar
1. Chip Monck – "If it's out of reason, I trust someone will tell me" [1:23]
2. HOW HAVE YOU BEEN [6:29]
3. RAINBOWS ALL OVER YOUR BLUES [3:43]
4. I HAD A DREAM [3:41]
5. DARLING BE HOME SOON [5:57]
6. YOUNGER GENERATION [4:15]
7. John Morris & Chip Monck – "They're with us, man!" [1:36]
Disc 13
THE KEEF HARTLEY BAND
Featuring/KEEF HARTLEY: drums • MILLER ANDERSON: guitar, vocals • GARY THAIN: bass • JIMMY JEWELL: saxophone • HENRY LOWTHER: trumpet, violin
1. Chip Monck – "Please meet Harold at the stand with the blood pills" [5:59]
2. SPANISH FLY [6:58]
3. SHE'S GONE [7:10]
4. TOO MUCH THINKING [7:19]
5. BELIEVE IN YOU [7:43]
6. Halfbreed Medley:
SINNIN' FOR YOU>LEAVING TRUNK>JUST TO CRY>SINNIN' FOR YOU [17:57]
7. Chip Monck – "Le dernière parte de la stage, immédiatement, s'il vous plait" [15:10]
Disc 14
THE INCREDIBLE STRING BAND
Featuring/MIKE HERON: vocals, guitar, piano, various instruments • ROBIN WILLIAMSON: vocals, guitar, piano, violin • CHRISTINA "LICORICE" McKECHNIE: organ, vocals • ROSE SIMPSON: bass, recorder, vocals, percussion
1. Chip Monck – "Puppet theatre will be going on at the Hog Farm at 6:15" [3:55]
2. INVOCATION [1:42]
3. THE LETTER [5:37]
4. Chip Monck – "Please excuse this interruption" [1:30]
5. GATHER 'ROUND [6:30]
6. Robin Williamson – "It makes me fantastically happy" [0:44]
7. THIS MOMENT [6:13]
8. COME WITH ME [3:40]
9. Robin Williamson – "I just want to acknowledge all the requests" [1:00]
10. WHEN YOU FIND OUT WHO YOU ARE [8:56]
11. Chip Monck – "Could we please have the driver of Sly's truck, please?" [1:14]
12. Hugh Romney – "I don't think there's such a thing as a bum trip" [0:56]
13. Chip Monck – "Let's see if we can get some semblance of order going"" [11:37]
Disc 15
CANNED HEAT
Featuring/ALAN "BLIND OWL" WILSON: guitar, harmonica, vocals • BOB "THE BEAR" HITE: vocals, harmonica • HARVEY "THE SNAKE" MANDEL: guitar • LARRY "THE MOLE" TAYLOR: bass • ADOLPHO "FITO" DE LA PARRA: drums
1. Chip Monck – "There's been a little tremor of paranoia" [4:19]
2. I'M HER MAN [6:17]
3. GOING UP THE COUNTRY [6:09]
4. A CHANGE IS GONNA COME/LEAVING THIS TOWN [8:25]
5. ROLLIN' BLUES [8:39]
6. WOODSTOCK BOOGIE [28:29]
Disc 16
CANNED HEAT (Continued)
1. Bob Hite & Chip Monck – "Sure, man. Go right ahead." [3:01]
2. ON THE ROAD AGAIN [10:57]
3. Chip Monck – "Welcome yourselves to this experiment" [18:53]
Disc 17
MOUNTAIN
Featuring/LESLIE WEST: guitar, vocals • FELIX PAPPALARDI: bass • STEVE KNIGHT: keyboards • NORMAN "N.D." SMART: drums
1. Chip Monck – "The brown acid that is circulating around us is not specifically too good" [9:26]
2. BLOOD OF THE SUN [3:01]
3. STORMY MONDAY [7:18]
4. THEME FOR AN IMAGINARY WESTERN [5:13]
5. LONG RED [5:45]
6. WHO AM I BUT YOU AND THE SUN (FOR YASGUR'S FARM) [3:47]
7. BESIDE THE SEA [3:32]
8. WAITING TO TAKE YOU AWAY [4:50]
9. DREAMS OF MILK AND HONEY [16:11]
10. SOUTHBOUND TRAIN [6:17]
11. Chip Monck – "The green acid is really a great deal more serious than we thought" [2:28]
12. Chip Monck & Joshua White – "Open your eyes wide, 'cause here it comes" [5:57]

Disc 18
1. Ken Babbs, Chip Monck, et. al. – "It's the ninth wave" [9:12]
GRATEFUL DEAD
Featuring/JERRY GARCIA: guitar, vocals • BOB WEIR: guitar • RON "PIGPEN" McKERNAN: keyboards, vocals • TOM CONSTANTEN: keyboards, vocals • PHIL LESH: bass • BILL KREUTZMANN: drums • MICKEY HART: drums
2. ST. STEPHEN [2:05]
3. MAMA TRIED [2:41]
4. Ken Babbs, Country Joe McDonald, Jerry Garcia, Bob Weir, Pigpen, Owsley Stanley, et. al. – "All us people from the Bay Area, we're real LSD freaks!" [11:08]
5. DARK STAR [19:10]
6. HIGH TIME [6:18]
Disc 19
GRATEFUL DEAD (Part 2)
1. TURN ON YOUR LOVELIGHT [39:01]
2. Ken Babbs & Chip Monck – "This is Richie and he's lost his chick" [6:26]
Disc 20
CREEDENCE CLEARWATER REVIVAL
Featuring/JOHN FOGERTY: vocals, guitar, harmonica, piano • TOM FOGERTY: rhythm guitar, vocals • STU COOK: bass • DOUG "COSMO" CLIFFORD: drums
1. John Morris & Chip Monck – "You're carrying Janis's wah-wah pedals" [4:42]
2. BORN ON THE BAYOU [5:22]
3. GREEN RIVER [3:17]
4. NINETY-NINE AND A HALF (Won't Do) [4:46]
5. BOOTLEG [3:38]
6. COMMOTION [2:47]
7. BAD MOON RISING [2:13]
8. PROUD MARY [3:50]
9. I PUT A SPELL ON YOU [4:27]
10. THE NIGHT TIME IS THE RIGHT TIME [3:39]
11. KEEP ON CHOOGLIN' [10:28]
12. SUZIE Q [10:52]
13. Chip Monck – "It's going to be a very long evening" [1:08]
Disc 21
JANIS JOPLIN
Featuring/JANIS JOPLIN: vocals • TERRY CLEMENTS: tenor saxophone • CORNELIUS "SNOOKY" FLOWERS: baritone sax, vocals • LUIS GASCA: trumpet • JOHN TILL: guitar • RICHARD KERMODE: keyboards • BRAD CAMPBELL: bass • MAURY BAKER: drums
1. audience & Chip Monck – "Douglas!" [1:27]
2. RAISE YOUR HAND [5:16]
3. AS GOOD AS YOU'VE BEEN TO THIS WORLD [6:23]
4. TO LOVE SOMEBODY [5:31]
5. SUMMERTIME [5:23]
6. TRY (Just A Little Bit Harder) [5:15]
7. KOZMIC BLUES [4:43]
8. "This is Snooky Flowers" [0:57]
9. I CAN'T TURN YOU LOOSE [6:40]
10. WORK ME, LORD [8:24]
11. PIECE OF MY HEART [4:39]
12. "Music's not for putting yourself through bad changes" [1:31]
13. BALL AND CHAIN [6:29]
14. Chip Monck – "If that's to your liking" [9:12]
Disc 22
SLY & THE FAMILY STONE
Featuring/SLY STONE: keyboards, vocals • FREDDIE STONE: guitar, vocals • JERRY MARTINI: saxophone • CYNTHIA ROBINSON: trumpet • ROSE STONE: keyboards, vocals • LARRY GRAHAM: bass, vocals • GREGG ERRICO: drums
1. Chip Monck – "A little exercise" [1:12]
2. M'LADY [6:55]
3. "We have some equipment that is not working properly" [0:44]
4. SING A SIMPLE SONG [5:15]
5. YOU CAN MAKE IT IF YOU TRY [5:34]
6. Medley: [22:53]
EVERYDAY PEOPLE [3:09]
DANCE TO THE MUSIC [3:11]
MUSIC LOVER [3:56]
I WANT TO TAKE YOU HIGHER [8:25]
7. LOVE CITY [5:46]
8. Chip Monck – "Get it out in all one big burst" [1:54]
9. STAND! [3:35]
10. Chip Monck – "A wallet lost" [2:24]
Disc 23
THE WHO
Featuring/ROGER DALTREY: vocals • PETE TOWNSHEND: guitar, vocals • JOHN ENTWISTLE: bass, vocals • KEITH MOON: drums
1. Abbie Hoffman – "I think we, like, oughtta do something about John Sinclair" [2:11]
2. HEAVEN AND HELL [3:34]
3. I CAN'T EXPLAIN [2:25]
4. IT'S A BOY [0:37]
5. 1921 [2:30]
6. AMAZING JOURNEY [5:41]
7. SPARKS [3:27]
8. EYESIGHT TO THE BLIND [2:00]
9. CHRISTMAS [3:17]
10. ACID QUEEN [3:34]
11. PINBALL WIZARD [2:57]
12. Abbie Hoffman & Pete Townshend – "Fuck off my fucking stage!" [0:31]
13. DO YOU THINK IT'S ALRIGHT [0:49]
14. FIDDLE ABOUT [1:14]
15. THERE'S A DOCTOR I'VE FOUND [0:22]
16. GO TO THE MIRROR BOY [3:25]
17. SMASH THE MIRROR [1:06]
18. I'M FREE [2:25]
19. TOMMY'S HOLIDAY CAMP [1:00]
20. WE'RE NOT GONNA TAKE IT [9:21]
21. SUMMERTIME BLUES [3:36]
22. SHAKIN' ALL OVER [6:17]
23. MY GENERATION [6:43]
24. Chip Monck – "Welcome this new day" [0:54]
Day 3
Disc 24
JEFFERSON AIRPLANE
Featuring/MARTY BALIN: vocals • GRACE SLICK: vocals • PAUL KANTNER: guitar, vocals • JORMA KAUKONEN: guitar, vocals • JACK CASADY: bass • SPENCER DRYDEN: drums • NICKY HOPKINS: piano
1. Chip Monck – "That's not a piece of rope that you're hanging on" [2:30]
2. THE OTHER SIDE OF THIS LIFE [8:29]
3. Grace Slick – "One of those sloppy things that goes on and cannot be repeated" [3:50]
4. SOMEBODY TO LOVE [4:38]
5. 3/5 OF A MILE IN 10 SECONDS [5:44]
6. WON'T YOU TRY/SATURDAY AFTERNOON [5:28]
7. ESKIMO BLUE DAY [6:11]
8. Grace Slick – "We got a whole lot of orange and it was fine" [1:03]
9. PLASTIC FANTASTIC LOVER [4:31]
10. WOODEN SHIPS [22:07]
Disc 25
JEFFERSON AIRPLANE (Continued)
1. UNCLE SAM BLUES [6:43]
2. VOLUNTEERS [4:14]
3. Grace Slick – "It's Pooneil 1" [1:05]
4. THE BALLAD OF YOU & ME & POONEIL [15:57]
5. COME BACK BABY [6:05]
6. WHITE RABBIT [2:27]
7. THE HOUSE AT POONEIL CORNERS [9:17]
8. Hugh Romney & John Morris – "There is always a little bit of heaven in a disaster area" [2:24]
9. John Morris – "The roads are fairly clear now" [1:21]
10. Muskrat – "We got a Times" [1:21]
11. Hugh Romney, John Morris, et. al. – "Bugsy to the pink and white tent" [3:33]
Disc 26
JOE COCKER
Featuring/JOE COCKER: vocals • With THE GREASE BAND (CHRIS STAINTON: keyboards • HENRY McCULLOUGH: guitar, backing vocals • ALAN SPENNER: bass, backing vocals • BRUCE ROWLAND: drums)
1. Max Yasgur – "I think you people have proven something to the world" [2:53]
2. John Morris and The Grease Band – "Now is the time!" [2:19]
3. ROCKHOUSE [The Grease Band] [4:15]
4. WHO KNOWS WHAT TOMORROW MAY BRING [The Grease Band] [4:28]
5. "That farming guy who came out, he seemed a nice little bloke" [0:21]
6. DEAR LANDLORD [8:05]
7. SOMETHING'S COMING ON [4:02]
8. DO I STILL FIGURE IN YOUR LIFE [3:30]
9. "An English variation on somebody's head-bashing tune" [0:35]
10. FEELIN' ALRIGHT [4:54]
11. "A ballad of Grecian quantity" [0:30]
12. JUST LIKE A WOMAN [6:23]
Disc 27
JOE COCKER (Continued)
1. LET'S GO GET STONED [7:04]
2. I DON'T NEED NO DOCTOR [12:01]
3. "Just shows you what you can do with a few shillelaghs" [0:37]
4. I SHALL BE RELEASED [5:50]
5. HITCHCOCK RAILWAY [7:02]
6. SOMETHING TO SAY [9:08]
7. WITH A LITTLE HELP FROM MY FRIENDS [8:07]
8. John Morris, Barry Melton, audience & rainstorm – "Maybe we can stop this rain" [10:03]

Disc 28
COUNTRY JOE & THE FISH
Featuring/COUNTRY JOE McDONALD: vocals, guitar • BARRY MELTON: guitar, vocals • MARK KAPNER: keyboards • DOUG METZNER: bass • GREG DEWEY: drums
1. Chip Monck – "Leave the fences for last when you take firewood" [10:21]
2. ROCK & SOUL MUSIC [2:08]
3. LOVE [3:08]
4. NOT SO SWEET MARTHA LORRAINE [4:28]
5. SING SING SING [3:16]
6. SUMMER DRESSES [5:37]
7. FRIEND, LOVER, WOMAN, WIFE [2:27]
8. SILVER AND GOLD [4:48]
9. MARIA [4:13]
10. THE LOVE MACHINE [5:25]
11. EVER SINCE YOU TOLD ME THAT YOU LOVE ME (I'M A NUT) [2:47]
12. CRYSTAL BLUES [6:03]
13. ROCK & SOUL MUSIC (Reprise) [13:07]
14. THE "FISH" CHEER/I-FEEL-LIKE-I'M-FIXIN'-TO-DIE RAG [3:10]
15. Chip Monck – "We'll start with minimal lighting" [4:18]
Disc 29
TEN YEARS AFTER
Featuring/ALVIN LEE: guitar, vocals • CHICK CHURCHILL: keyboards • LEO LYONS: bass • RIC LEE: drums
1. Chip Monck – "Please do come down" [1:19]
2. SPOONFUL [7:31]
3. GOOD MORNING LITTLE SCHOOLGIRL (1) [2:08]
4. GOOD MORNING LITTLE SCHOOLGIRL (2) [1:23]
5. GOOD MORNING LITTLE SCHOOLGIRL (3) [4:41]
6. HOBBIT [8:08]
7. I CAN'T KEEP FROM CRYING SOMETIMES [18:00]
8. HELP ME [17:56]
9. I'M GOING HOME [12:15]
10. Chip Monck – "There's been an awful lot of broken limbs" [5:22]

Disc 30
THE BAND
Featuring/ROBBIE ROBERTSON: guitar, vocals • RICHARD MANUEL: piano, organ, vocals • GARTH HUDSON: organ, piano • RICK DANKO: bass, vocals • LEVON HELM: drums, vocals
1. Chip Monck – "B.B. King, Freddie King, Herbie Mann" [10:57]
2. CHEST FEVER [5:42]
3. DON'T DO IT [4:24]
4. TEARS OF RAGE [5:37]
5. WE CAN TALK [3:25]
6. LONG BLACK VEIL [4:25]
7. DON'T YA TELL HENRY [3:52]
8. AIN'T NO MORE CANE [5:08]
9. THIS WHEEL'S ON FIRE [3:57]
10. I SHALL BE RELEASED [3:38]
11. THE WEIGHT [6:18]
12. LOVING YOU IS SWEETER THAN EVER [5:14]
13. audience, Chip Monck, et. al. – "Help, I'm being busted!" [3:22]
Disc 31
JOHNNY WINTER
Featuring/JOHNNY WINTER: guitar, vocals • TOMMY SHANNON: bass • JOHN TURNER: drums • Special Guest: EDGAR WINTER: keyboards, vocals (tracks 5-7)
1. Chip Monck – "There's evidently a trickle" [3:09]
2. MAMA, TALK TO YOUR DAUGHTER [5:02]
3. LELAND MISSISSIPPI BLUES [5:13]
4. MEAN TOWN BLUES [11:13]
5. YOU DONE LOST YOUR GOOD THING NOW [17:02]
6. I CAN'T STAND IT – with Edgar Winter [6:26]
7. TOBACCO ROAD – with Edgar Winter [10:17]
8. TELL THE TRUTH – with Edgar Winter [7:48]
9. JOHNNY B. GOODE [5:35]
10. Chip Monck & stage crew – "Amplifier Section, come in please" [6:52]
Disc 32
BLOOD, SWEAT & TEARS
Featuring/DAVID CLAYTON-THOMAS: vocals, guitar • STEVE KATZ: guitar, harmonica, vocals • DICK HALLIGAN: keyboards, trombone, flute • JERRY HYMAN: trombone • FRED LIPSIUS: alto sax, piano • LEW SOLOFF: trumpet, flugelhorn • CHUCK WINFIELD: trumpet, flugelhorn • JIM FIELDER: bass • BOBBY COLOMBY: drums
1. Chip Monck – "It's really annoying to have to constantly make this announcement"" [2:34]
2. MORE AND MORE [2:51]
3. JUST ONE SMILE [4:45]
4. SOMETHIN' COMIN' ON [2:29]
5. I LOVE YOU MORE THAN YOU'LL EVER KNOW [7:29]
6. SPINNING WHEEL [4:56]
7. SOMETIMES IN WINTER [3:30]
8. SMILING PHASES [10:22]
9. GOD BLESS THE CHILD [6:54]
10. AND WHEN I DIE [5:18]
11. YOU'VE MADE ME SO VERY HAPPY [4:24]
12. Audience – "What about the Moody Blues?" [8:08]
Disc 33
CROSBY, STILLS & NASH
Featuring/DAVID CROSBY: guitar, vocals • STEPHEN STILLS: guitar, vocals • GRAHAM NASH: guitar, vocals

1. "Tell 'em who we are, man" [1:02]
2. SUITE: JUDY BLUE EYES [8:38]
3. BLACKBIRD [2:45]
4. HELPLESSLY HOPING [3:05]
5. GUINNEVERE [5:55]
6. MARRAKESH EXPRESS [2:36]
7. 4 + 20 [2:44]
CROSBY, STILLS, NASH & YOUNG
Featuring/Same as above, adding NEIL YOUNG: guitar, piano, vocals • GREG REEVES: bass • DALLAS TAYLOR: drums
8. MR. SOUL [6:31]
9. I'M WONDERIN' [1:51]
10. YOU DON'T HAVE TO CRY [3:31]
11. "Is everybody ready?" [0:46]
12. PRE-ROAD DOWNS [2:51]
13. LONG TIME GONE [6:12]
14. BLUEBIRD REVISITED [4:32]
15. SEA OF MADNESS [2:52]
16. WOODEN SHIPS [6:45]
17. FIND THE COST OF FREEDOM [2:09]
18. "Good luck, fellas" [1:19]
19. 49 BYE-BYES [5:19]
20. Chip Monck – "We'll have to talk about it" [0:50]
Disc 34
THE BUTTERFIELD BLUES BAND
Featuring/PAUL BUTTERFIELD: vocals, harmonica • HOWARD "BUZZY" FEITEN: guitar • ROD HICKS: bass • DAVID SANBORN: alto saxophone • GENE DINWIDDIE: tenor saxophone, vocals • TREVOR LAWRENCE: baritone saxophone • KEITH JOHNSON: trumpet • STEVE MADAIO: trumpet • PHILLIP WILSON: drums
1. Chip Monck – "Doriza of Utica" [2:15]
2. BORN UNDER A BAD SIGN [13:38]
3. NO AMOUNT OF LOVING [6:12]
4. DRIFTIN' AND DRIFTIN' [12:08]
5. MORNING SUNRISE [8:01]
6. ALL IN A DAY [7:50]
7. LOVE MARCH [11:20]
8. EVERYTHING'S GONNA BE ALRIGHT [9:21]
9. Chip Monck – "Good morning" [0:19]
Disc 35
SHA NA NA
Featuring/DONALD "DONNY" YORK: vocals • ROB LEONARD: vocals • ALAN COOPER: vocals • FREDERICK "DENNIS" GREENE: vocals • DAVE GARRETT: vocals • RICHARD "RICHIE" JOFFE: vocals • SCOTT POWELL: vocals • JOE WITKIN: keyboards • HENRY GROSS: guitar • ELLIOT CAHN: rhythm guitar • BRUCE CLARKE III: bass guitar • JOHN "JOCKO" MARCELLINO: drums
1. "Test, Test" [1:36]
2. GET A JOB [2:27]
3. COME GO WITH ME [2:32]
4. SILHOUETTES [2:58]
5. TEEN ANGEL [3:31]
6. (MARIE'S THE NAME) HIS LATEST FLAME [2:08]
7. WIPE OUT [2:13]
8. BOOK OF LOVE [2:01]
9. LITTLE DARLIN' [incomplete] [0:44]
10. AT THE HOP [3:05]
11. DUKE OF EARL [2:00]
12. Get A Job (Reprise) [0:27]
13. Chip Monck – "Thank you for making all this possible" [8:12]
Disc 36
JIMI HENDRIX
Featuring (as GYPSY SUN AND RAINBOWS)/JIMI HENDRIX: guitar, vocals • LARRY LEE: rhythm guitar • BILLY COX: bass, backing vocals • MITCH MITCHELL: drums • JUMA SULTAN: percussion • GERARDO "JERRY" VELEZ: congas
1. Introduction [2:21]
2. MESSAGE TO LOVE [7:21]
3. HEAR MY TRAIN A COMIN' [9:49]
4. SPANISH CASTLE MAGIC [7:06]
5. RED HOUSE [5:24]
6. LOVER MAN [5:12]
7. FOXEY LADY [5:07]
8. JAM BACK AT THE HOUSE [7:45]
Disc 37
JIMI HENDRIX (Continued)
1. IZABELLA [6:42]
2. FIRE [3:42]
3. VOODOO CHILD (SLIGHT RETURN) [13:40]
4. THE STAR SPANGLED BANNER [3:43]
5. PURPLE HAZE [4:24]
6. WOODSTOCK IMPROVISATION [4:00]
7. VILLANOVA JUNCTION [4:28]
8. HEY JOE [5:53]
Disc 38 – A Farewell and Four Appendices
1. Chip Monck – "Good wishes, good day, and a good life" [4:33]
2. "This is Groesbeek" [0:16]
3. "Hungry wet hordes" [4:48]
4. "Sun dance" [0:10]
5. "Cancel out whatever I said about the morning" [0:26]
6. "Lotsa kooks around here" [0:39]
7. "National Outdoor Leadership types" [1:17]
8. "Why aren't you dishonest like everybody else?" [1:17]
9. "I just saw the titles on this thing" [0:16]
10. "We've had hassles" [0:30]
11. "This is up at the hospital tent" [2:07]
12. "It's Monday afternoon" [0:49]
13. "It's my Geiger counter" [1:25]
14. "Uh… boys by the American flag" [1:22]
15. "Magic Terry knows what he's talking about" [5:57]
16. "150 logs" [4:15]
17. "There's a little tin box full of hash around somewhere" [0:43]
18. "Here's a guy slightly freaked out" [1:14]
19. "Walking up the hill" [0:35]
20. Appendix 2: The Rain Chant [original field recording] [1:12]
21. "Please go to the information booth, man" [0:15]
22. "Around that crane in a three foot radius" [0:35]
23. "On Sunday, man, the Times gave a very favorable editorial" [0:49]
24. "It's gonna take me a few weeks to fully comprehend it" [1:50]
25. "We are making announcements" [1:30]
26. "Other people's pills" [0:16]
27. Chip Monck -"Please bear with us" [1:36]
28. "If anybody can understand what I'm saying, stand up and move" [1:17]
29. "A matter of life and death—dig it!" [0:25]
30. "Up against the wall, boys" [2:06]
31. "Rap Central, near the first aid trailer" [4:15]
32. "For those of you who haven't heard of the Bindi Bazaar" [1:06]
33. "Three; Richie's voice" [1:00]
34. "Hello!" [0:16]
---
You may also like