De cómo ser original para venderte un disco
---
El álbum de Ian Dury & the Blockheads, Do It Yourself, se celebrará este junio con un set de reedición para el 40 aniversario y se editará en un box de 1LP + 2CD + DVD super deluxe y viene con 34 cubiertas diferentes.
Si, ¡ treinta y cuatro!
Lanzado por primera vez en mayo de 1979 tras el éxito de 'Hit Me With Your Rhythm Stick', Do It Yourself omitió el tema debido a su política de no incluir singles en sus álbumes, aunque el tema inicial "Inbetweenies" se publicó en Europa. A pesar de esto, el álbum producido por Chaz Jankel / Laurie Latham aún logró alcanzar el número dos en las listas de éxitos del Reino Unido (le negó el primer puesto el Voulez Vous de Abba), aunque el dinero ganado pronto se perdió en la próxima gira europea donde Dury insistía en quedarse en los mejores hoteles, y todo el asunto fue tan estresante para Chaz Jankel que se fue inmediatamente después.
También fue el primer álbum en acreditar a The Blockheads, habiendo solo mencionado anteriormente en el single de 1978 'What A Waste'.
Este nuevo lanzamiento aniversario super deluxe es un box set de cuatro discos LP + 2CD + DVD con el álbum original presentado en vinilo de color magnolia, recién cortado de las cintas maestras originales. Los dos CD y DVD que contienen el álbum, todos los singles, caras B, demostraciones, videos y un concierto en vivo grabado en Belfast, en febrero de 1979.
Un buen punto de venta aquí es una opción de "elige tu propia portada". Las 34 tarjetas de arte incluyen las 34 diferentes fundas de la cubierta frontal, originalmente diseñadas por Barney Bubbles (basadas en varias muestras del papel tapiz de Crown). Estos se pueden cambiar y deslizarse en un troquelado especial. Este juego también viene con un folleto de 12 páginas con información de Phill Jupitus y Kosmo Vinyl.
Do It Yourself: 40th Anniversary Edition se lanza el 14 de junio de 2019.
Vinilo y CD1
Inbetweenies
Quiet
Don't Ask Me
Sink My Boats
Waiting For Your Taxi
This Is What We Find
Uneasy Sunny Day Hotsy Totsy
Mischief
Dance Of The Screamers
Lullaby For Franci/es
CD2
Singles
What A Waste
Hit Me With Your Rhythm Stick
There Ain't Half Been Some Clever Bastards
Reasons To Be Cheerful, Part 3
Common As Muck
Hit Me With Your Rhythm Stick (12 inch version)
Reasons To Be Cheerful, Part 3 (12 inch version)
Demos
This Is What We Find
Boogie Woogie (Duff 'Em Up)
Quiet
Inbetweenies (Backing Track)
Babies Kept Quiet Uneasy (Sunny Day Hotsy Totsy)
Blow (Instrumental)
DVD
Promo Videos:
What A Waste
Hit Me With Your Rhythm Stick
Reasons To Be Cheerful, Part 3
Live:
Rock Goes to College: in concert at Queen's University, Belfast. 3rd February 1979
Sex & Drugs & Rock & Roll
I'm Partial to Your Abracadabra
Clevor Trevor
This Is What We Find
Hit Me With Your Rhythm Stick
There Ain't Half Been Some Clever Bastards
Sweet Gene Vincent
What A Waste
Blockheads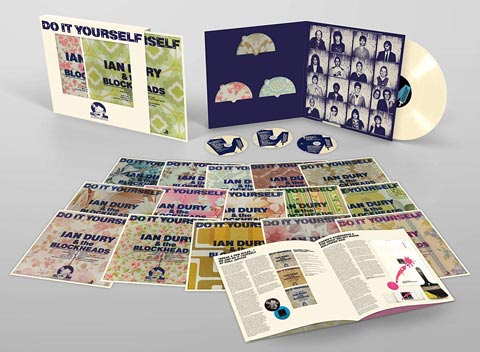 ---
You may also like